Bing Search engine is regularly updated with new features. The latest addition to it comes in the form of faster way to get directions between two places.
After having added support for different standard apps (Travel app, a Weather app, a News app, a Finance app and a Sports app) Bing embarked upon a new mission. Mission of finding a faster way to get directions between two places. What transpired later was a successfully completed project on estimated travel time with accurate directions.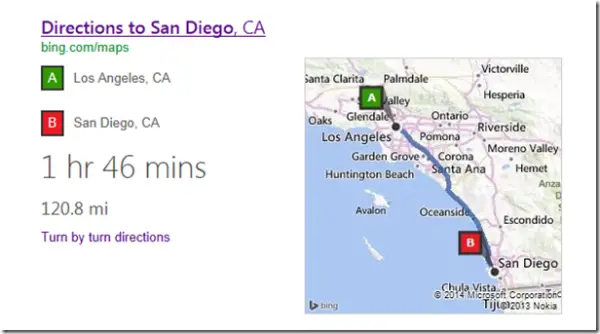 Thus, Bing Maps will now present you with a detailed plan of your journey, showing estimated travel time, mileage and a thumbnail withcomplete breakdown of the directions with suggested routes if you decide to seek the search engine's help in navigating from one point to another.
When you click on the map or the "turn by turn directions" link, we'll launch the Bing Maps experience where you will see a detailed set of turn-by-turn directions. Because we know directions are most useful when you're on the go, we've enabled this mobile browse experience across the top smart phones including Windows Phone, iPhone and Android devices", said Prashant Bhugra, Senior Program Manager, Bing.
What is known at this point of time is that the feature would be available only in the U.S and is likely to be rolled out for other places in the future. The page lists few sample queries you can try out for yourself.
Is this Bing's latest attempt to lure searches away from Google or is it poised to dent Google's share of the search market?