For the past few months, the Bing team has been busy refining the Bing search experience. An upcoming Bing refresh, this time surprisingly for Windows Phone 8 will add a new interface and a set of new features to the service.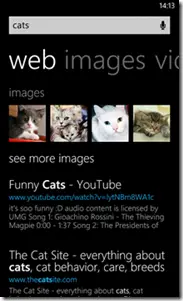 Earlier, searches made on Windows Phone 8 displayed four categories – Web, Local, Media, and Shopping. The new update will reduce the search filters to 3.
Web
Images
Videos
The Images category will display larger image previews instead of the small grid and videos will be placed neatly in a two-column format. in short, a new interface and a set of new features will be rolled out to the service. As one can expect, the update will first roll out to for US Windows Phone 8 smartphone users. Only later, it will be rolled out to the other parts.
"Coming soon, Bing will roll out a set of global updates for Windows Phone 8 similar to recent upgrades we've made to Bing.com on Android and iOS. With this release, we're excited to provide people with more info they need on their mobile device, including additional instant answers and Snapshot entity information. Check out the guest blog post below from our Windows Phone counterparts to learn more", wrote the Bing Team.
Similar to Google Search, Bing will provide you with additional information for Flight schedules, movies and word definitions. More relevant content/information will occupy the first screen space though.
It is likely that Bing will also be updated with infinite scrolling, offering faster access to more images/videos results.