Following its recent revamp, Microsoft's search engine Bing today announced a modern interface for its news portal. The new look offers easier and fresh experience with a modern look to users especially those using Bing on their phone or tablets.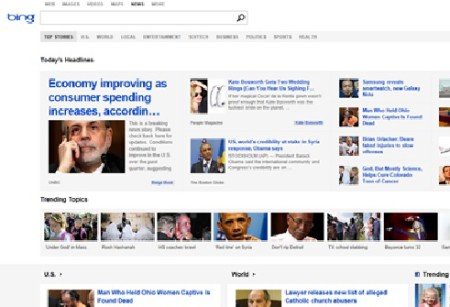 Understanding the ever-increasing popularity of touch devices, Bing has redesigned its News Page especially for the touch devices. "Built for Touch", this interface is best suitable not only for the tablets and touch devices, but also for devices like Yoga and Surface Pro. Bringing an easier experience to users, Bing now showcases the top trending topics from Facebook, Twitter and Bing.
What's New?
Design – The new design of Bing News is very adaptive for every device, may it be a PC, a tablet or a touch enabled mobile phone. The newly designed News Page suitably fits the mobile browser.
Trending Topics – Bing News now showcases the trending topics from Bing, Twitter and Facebook. The synchronized view of news brings a de-cluttered and systematized experience for the users. Users can now check the trending topics as well as latest news in various categories all in one place.
Trending Now – The most trending topics relevant to the search results are displayed on the page side. This new feature allows users to check the latest headlines of the day without going to the next page.
Earlier this year Bing refurbished Bing Search Results page and Search History Page. It seems that Microsoft is making its search engine much like the Windows 8 Modern UI.
Try Bing News today, you will be surprised at how it have evolved!