Microsoft Corporation officially launched its online shopping portal 'Bing Offers. This happens less than a week before the official date of deals.Yahoo.com's shutdown. The portal plans to cover almost every possible commodity and service available out there. However, as a start, its scope will be limited to the US only.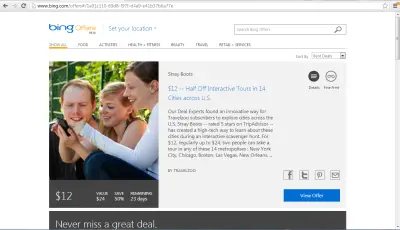 What does Bing Offers have to offer us
One place for every kind of deal: Whether a T-shirt or a car or a laptop, every deal will be available at the same place at 'Bing Offers'. Thus users won't have to browse through different website, sign up again and again just because they want to check out offer from different niches.
Advanced search bar: Another important feature of Bing Offers is its advanced search bar. In case you need to find offer on a particular product that too at a particular location, just use the advanced search setting to filter out the category and location of the search.
Compatibility with all devices: Bing Offer will work effectively on any device, be it a PC, laptop, smart phone or tablet. Thus you can access the online portal anytime and anywhere.
There may be a lot of competition in the shopping portal market but Bing Offers is definite to prove itself as a big player out there. Its front page user interface does not show any immediate sign up banners or other formalities like other similar websites. Furthermore, it looks way to simple to use which is a reason it may attract a lot many visitors.
Thus let's check how Snapdeal, eBay and others react to it. However, at a first look Bing Offers seems to be quite user friendly and one can therefore be quite positive about its future. Go check it out here.