Bing – the web search engine from Microsoft in its quest to evolve continuously and deliver information users need has earned yet another mutually benefiting partnership. The search engine has joined hands with 92Y.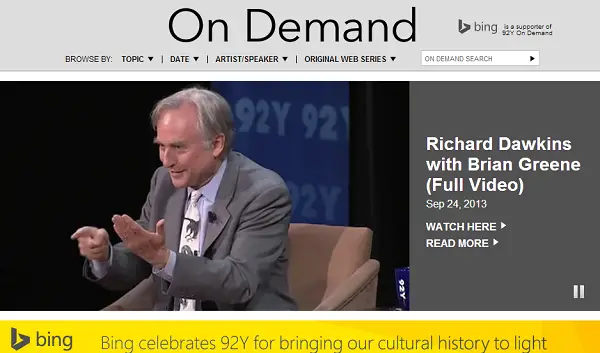 Bing supports 92YOnDemand.org
92nd Street Y is a world-class nonprofit community and cultural center that connects people at every stage of life to the worlds of education, the arts, health and wellness, and Jewish life. It's a Jewish organization that enthusiastically welcomes people of all backgrounds and perspectives. The community is also a place to pursue personal journeys – spiritual, physical or intellectual.
Bing pledged to support on demand audio and video library of popular 92Y organization – 92YOnDemand.org to help users learn more about world's best known thinkers and creators. 92Y OnDemand.org is a cultural resource that showcases videos from 92Y's rich archive of recorded events from both historic and current seasons at 92Y.
We're excited to help make available online for the first time content from some of the greatest thinkers , writers , and performers of the past century. At Bing, we interested in surfacing the human side of life, helping you explore and learn about the world's great thinkers and creators with search. This is why we're excited to be a founding sponsor for New York's fabled 92nd Street Y's new video-on-demand service: 92YOnDemand, wrote Bing on its blog.
Popular recommendations made by Bing for 92Y OnDemand.org videos include:
Amy Poehler: Comedian and star of "Parks & Recreation" answers questions submitted from the Tumblr community.
Bill Clinton:  Matthew Bishop of The Economist and author of the new book, Philanthrocapitalism: How the Rich Can Save the World, hosts former U.S. President Bill Clinton in a one-on-one discussion about The Clinton Global Initiative (CGI) and the role that philanthropy plays in addressing the world's pressing challenges.
Over 300,000 people visit 92Y's New York City venues annually, and millions more join 92Y via the Internet, satellite broadcasts and other digital media.