There are still three days left for The Annual Grammy Awards event, but Microsoft's Bing Search engine is ready with its Grammy awards predictions. It is not for the first time for Bing as it has done this in the past to predict the winners of the recent Super Bowl, NBC's hit singing competition 'The Voice' as well as the mid-term elections.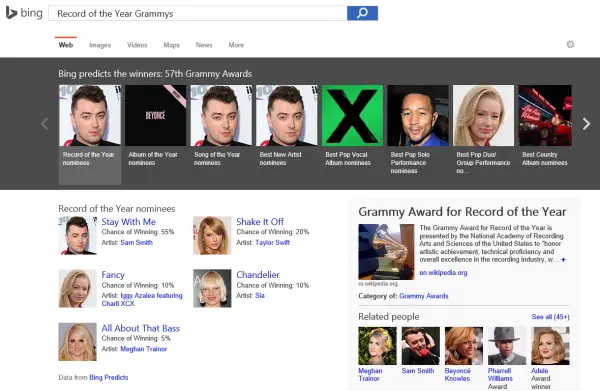 The search engine brings an interactive guide of all nominees in each category of The Grammy Awards and predictions of who all will be the winner of awards.
Starting yesterday, the Bing search engine is presenting a carousel showcasing the predictions of 57th Grammy Awards in each category right from the best artist, best song to the best album.
You just need to select a category from the carousel and Bing will show up the nominees in that particular category and the predictions of winners.
Furthermore, Bing also allows you to listen to the nominated songs and albums. The search engine presents it more or less like a karaoke party where the lyrics and videos are displayed side-by-side allowing you to sing along with the winning tunes of Grammy.
Bing is using the number of search queries and other social data to predict who all will take home the Grammy trophy.