Most music videos these days are uploaded online. Bing therefore has decided to amass the vast collection of music videos on the Internet to make it easier for users to listen to their favorite artists or focus on finding the best ones.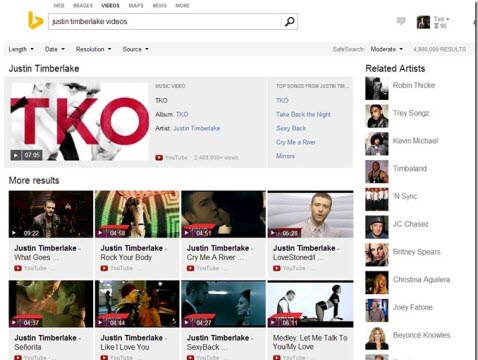 Bing video search results page
The search engine just recently rolled out a new music video search results page. The launch assumes significance as when searching for a music video by song title, artist or album, users will see a box at the top of their search results displaying the "most popular" music video related to the search, along with details and a list of "Top Songs" connected to the video.
Bing claims no other service offers such an ease of access to a vast collection of music videos. It is pulling videos from, "Leading sites including YouTube, Vimeo, MTV, Artist Direct and more." The subsequent videos listed under the featured video are sorted by relevancy based a user's search by song title, artist or album.
Ryn Becker of Bing explains,
"Built from the ground up to make it easier for you to access the best music videos available on the web, our new music video experience was designed with music lovers in mind. Whether you're looking for videos of songs and artists you are already familiar with (like Led Zeppelin and Justin Timberlake) or you're looking to discover the next-up-and-coming artist or revisiting the classics, we've got you covered".
Viewers can preview a video and check additional details without having to click on a search result by moving cursor over a video link.
Bing has assembled certain videos for user's convenience to explain better how songs are compiled in an album. It uses Pink Floyd's classic Dark Side of the Moon as an example, Bing lists songs from the album in their original order along with the featured video.