We all like to have more and more of online storage, and Microsoft from time to time has provided some bonus storage for its OneDrive users. So do you want 100 GB of OneDrive storage that too for Free? Bing Rewards has teamed up with OneDrive to offer 100 GB of online storage. This 100 GB of OneDrive storage is valid for 2 years from redemption date. Please note that as of now this offer is US only .

So if you are member of Bing Rewards, you can get this cool offer. As you know members get credits when one searches using Bing. And these credits can be redeemed for various offers or can be donated for a good cause.
Just go to the Bing Rewards dashboard, you can see this Free 100 GB OneDrive offer listed. And the best part of it is that it won't cost you any credit.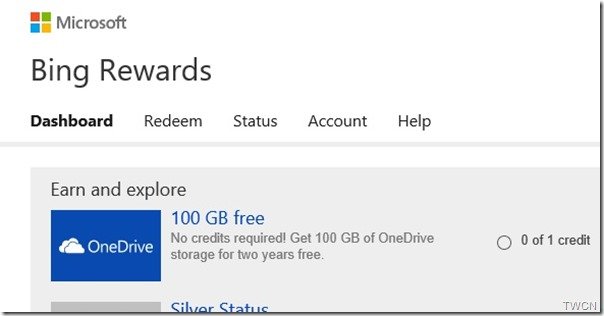 Please note that this must be redeemed by February 28, 2015.  The limit is One offer redemption per person/account.
So what are you waiting for, if you are eligible just redeem it now. If you are not a member of Bing Rewards, become a member now if its available in your country or region.