Microsoft has constantly worked hard to introduce new features to Bing and after a month of testing 'Bing Saves' feature is now available as a public beta for all to try out. Microsoft started testing this new feature of Bing around a month ago which allows users to save URLs and search results to their personal Bing/Microsoft account.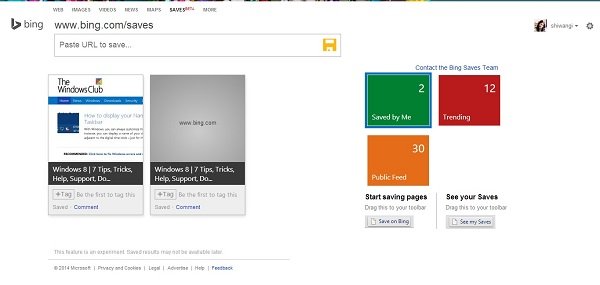 Bing Saves
'Bing Saves' is basically a search bookmarking feature which help Bing users to organize, and share things they find while searching on Bing. You can now search on Bing and save the website you want to visit later.
The 'Bing Saves' feature sits as a tiny icon next to search results. The feature shows a "save" button resembling a floppy disk, next to each link on a Bing results page to instantly save pages to your Microsoft Account." You can also enter a URL directly and save it on the 'Bing Saves' website.
With this new search bookmarking feature, Bing users can now create a personalized "index" of searched sites and URLs and can also tag visited sites for future reference. They can even drag the saved results to their toolbar for an easy access.
Go to Bing.com/saves to try out the new feature!
Remember that the feature being in its Beta version is still an experiment and your saved results may not be available later.