Bing has made a change in the way the AutoSuggest feature now works in its Search. In a blog post, Microsoft showcased some subtle changes it has made in its autosuggest algorithm and the interaction design behind it. Specifically, Bing appears to have made it faster to search by completing your query when they're confident we really know what you're looking for.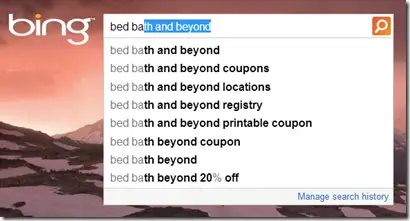 Bing feels that there are basically two important considerations which emerge when we look at patterns people use when searching:
The desire to navigate to a specific website (Navigation)
The quest to re-find something you've found before (Search History)
Autosuggest algorithms are able to determine just how likely it is that you want the #1 suggestion with various degrees of confidence. This confidence is highest in the two major patterns: Navigation and Search History. Ghosting is a way to pre-populate the query most likely to be used in the search box (blue selected-text style below) in an effort to speed up the time it takes to express your intent and get to your destination. This has seen to help users speed up by over 16%.
When Microsoft released and tested Autosuggest Ghosting to a sample set of users, they saw a marked improvement in people's ability to get to their results faster and with greater confidence.