Bing Smart Search in Windows 8.1 has just got smarter after Microsoft announced yesterday that it is rolling out a series of improvements that allows Windows 8.1 users experience a better way to search and arrive at the results very quickly. Smart Search powered by Bing in Windows 8.1 was released back in October 2013 and was liked by many as it allowed users to swipe or type from the start screen to find out what they needed-be it a document on the PC, or a photo in the cloud. However, now with the new update to be rolled out in the next couple of weeks, users will enjoy additional features like the ability to write out their instructions in the form of sentences and get appropriate results.
Bing Smart Search – Boon to Windows 8.1 users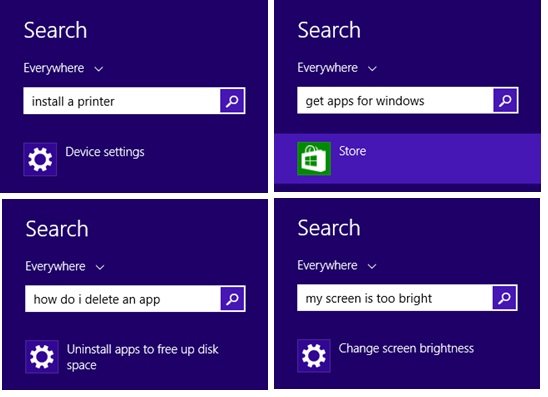 Compared to Windows 8, Windows 8.1 has been received well by users for the ease in working that it offers. Now with new updates coming in, Windows 8.1 users will get an additional advantage. Say as an example, if the user search "install a printer", Smart Search will return with results like "Device Settings" so that you can take action quickly.
Similarly, if you are looking to find new apps for your new Windows 8 device? Then by simply typing, "get apps for windows", Smart Search will showcase the Windows Store.
Talking about the update Microsoft mentioned on the Bing Blog,
"Improvements include making search more natural. For example, if you are unclear on where to go to find new apps for Windows, you can search "get apps for windows" where Smart Search will showcase the Windows Store. Bing has taken some of the most common tasks people perform in Windows 8.1 to have Smart Search show results based on natural language understanding".
Apart from including natural language search in Bing Smart Search, Microsoft has also bought in improvements to identify relevant search results for common spelling mistakes that users make while writing. So, don't forget to update to the latest version of Windows 8 to enjoy these updates.