Recently, Microsoft announced that Bing is to be the default search experience in ChatGPT. This integration will provide several benefits to the OpenAI chatbot ChatGPT users. This new feature will be first rolled out for ChatGPT Plus subscribers. Later, it will also be available to the free users of ChatGPT. Users will be able to use Bing in ChatGPT by enabling a plugin.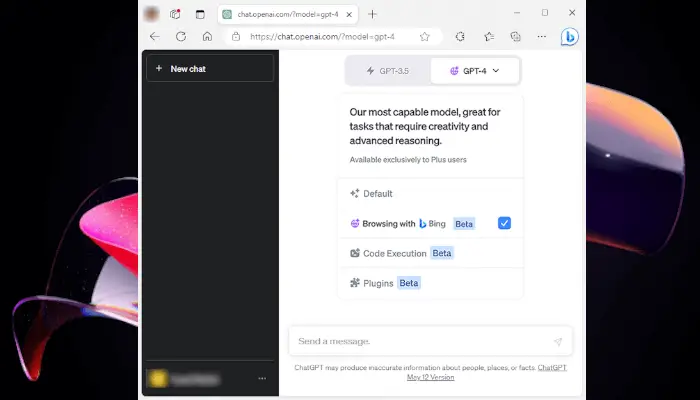 Bing to be the default search experience in ChatGPT
Bing is going to be the default search experience in ChatGPT. With this integration, ChatGPT will get a world-class search engine and will be able to provide more up-to-date answers. These answers will also have citations so that users can learn more.
Microsoft is also committing to use the same plugin standard that Open AI uses for ChatGPT. This will enable interoperability among the plug-ins for Bing Chat, Microsoft's Copilot platform, and ChatGPT. This will also provide developers with the facility to use a single platform to build and submit plug-ins that will work across both customer and business environments, including ChatGPT, Bing, Dynamics 365 Copilot, Microsoft 365 Copilot, and Windows Copilot.
New plug-ins are coming soon from Expedia, Instacart, Kayak, Klarna, Redfin, TripAdvisor, and Zillow. With these plug-ins, Bing can make relevant recommendations based on a user's conversation. Have a look at how these plug-ins can create new opportunities for consumers.
With Expedia, travelers can enjoy conversational trip planning.
Instacart plug-in will help users place an order from their favorite grocery retailer.
The Zillow plug-in will help users get expert tips on real estate.
With the TripAdvisor plugin, users will get the best travel guidance so they can make their traveling better.
After integrating the AI-powered Chat into Bing, Microsoft has seen great progress in a short time. Also, the Bing mobile app downloads have increased 8x since its launch. Hence, this step of Microsoft will surely boost its user base and increase user engagement.
You can read more about this on Bing's blog.