The Bing Translator app is one of the 'must-have' apps I consider for my Windows and its availability on the Windows 8 Store is plain good news.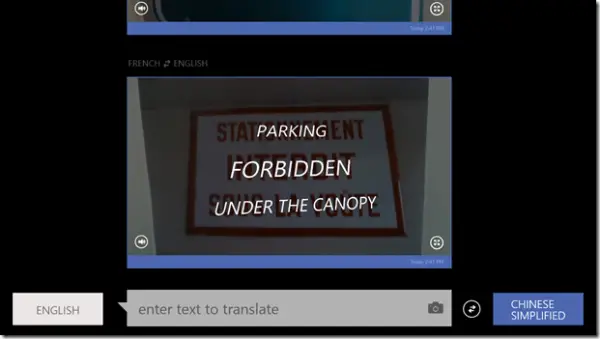 The Bing Translator app for Windows is now available for download from the Windows Store where it effectively utilizes the system's web camera to offer 'augmented reality' translation by showing the translated text/data right on the go. Helping translate in more than 40 languages, the Bing Translator app also allows for offline translation without the need to connect to the Internet.
"The Bing Translator app is based on years of Microsoft Research's investments in advancing machine learning – a way to find patterns that humans can't see, helping people interpret the words and worlds around them." – Vikram Dendi, Director of Product Management, Microsoft/Bing Translator
Through the Bing Translator Windows app, users can simply point the camera at the printed text to obtain instantaneous translation the next second. Moreover, in the absence of printed text or when the need arises, users can simply type in desired text and obtain its translation and in fact hear translations spoken with a native speaker's accent.
The Share Charm enables users to quickly translate highlighted text in any Windows 8 app while also indulging in a bit of multitasking thanks to support for Snap View where users can simply snap the translator app to the right/left of their screen and carry on with their work like browsing, chatting or more.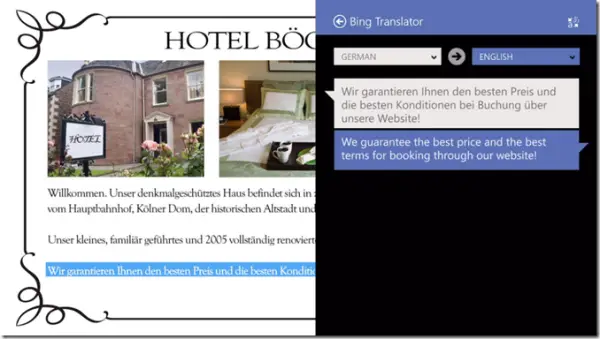 "The Translator app is the perfect companion when traveling. The app can help overcome language barriers, even when there's no internet connection. Save on expensive data plans when traveling with offline language packs for select languages so you can travel with confidence, even in the most remote locations. Powerful translation technology is just a swipe away in Windows 8 no matter where you are – at your desk or on the go."
The Bing Translator app is available for free download at the Windows Store. Check it out? Yes please.