Much like its Windows Phone counterpart, the Bing Translator app for Windows 8.1 too will now help you translate one language to another. Thanks to a recent major update, the speech-to-speech feature has been added to the application with support for several native accents.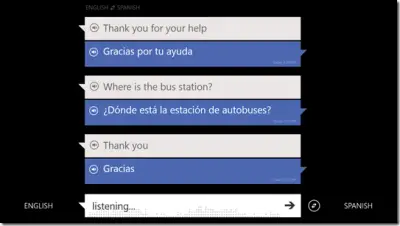 Bing Translator for Windows Phone 8 too received several updates. The new update brings a few improvements in speech functionality to make the quality and responsiveness of the app better. In an official blogpost, Microsoft explains,
Today, we are also releasing new updates to the Bing Translator app for Windows Phone 8 which include improvements to the speech functionality for better quality and responsiveness of translations, in addition a redesigned user interface for the existing and recently released offline language packs. By downloading offline language packs, you can maintain translation on the go when not connected to the internet and avoid expensive data roaming charges.
Bing  Translator can become a very great companion while you are on a trip and roaming new places. It lets you translate your native language to the ones the people at that place are familiar with. If you are worried about getting good network, you can also download the offline language data which will let you do all the tasks without a working data connection. You can also pinpoint to a street sign or any similar things to translate and explain the painted texts and signs to your preferred language.
Both the apps are freely available on their respective app stores.  You can download the updated version for Windows 8.1 from here and Windows Phone 8 counterpart can be grabbed from here.