If a Picture is Worth a Thousand Words, Then Is a Video worth a Million; with this thought Microsoft's search engine brings a modern makeover for videos online. On its official Bing blog, team Bing recently shared the thinking behind the videos makeover and enhanced vide0-search experience.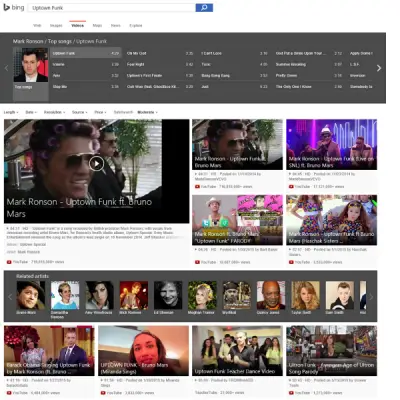 Bing says, "People love online videos. A video can teach us something new, connect diverse communities, or simply entertain. It's no wonder this space continues to boom with billions of videos viewed online each month. To make the Bing video search experience even better, we just released a new layout that makes searching easier and faster. The design changes give you the information you need to quickly pick the right videos to watch".
Bing Video Makeover includes:
Bigger images
Videos in search results will now come with a bigger thumbnails which will help users getting an expanded view which will further help them getting what they are looking for.
Additional information with every video
When a user will search for a video online, Bing will add additional information like channel, upload date and the view count along with the search results.
Related searches
Related searched will now be displayed with user's original search which will help them refining their search and getting more relevant results easily. The related searches will be based on the keyword users use to search a video online.
Microsoft keeps updating Bing time to time by adding some functionality enhancements and new features. Some of the popular enhancements to Bing include Bing my lock screen, setting Bing home page picture as lock screen background, Bing new tab page extension for chrome and many more.
Do check out bing.com/videos and share what you think about this latest video makeover idea by Bing.