Bitdefender Antivirus is reportedly flagging the Windows 10 Security Update as a Trojan. As a result, the antivirus program is surprisingly blocking the update for some users. Here's what the confusion is all about.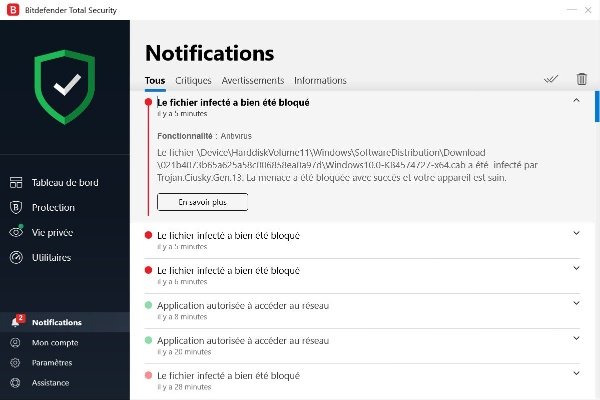 Bitdefender blocks Windows 10 update
Recently, Microsoft released Windows 10 cumulative updates as part of its Mega Patch Tuesday. Since then, several users have complained that the update is being blocked and flagged as a Trojan by Bitdefender Antivirus.
Among a number of updates, this problem may be limited to KB4574727, which is applicable to Windows 10 version 1903 and 1909. Apparently, Bitdefender users received the following messages:
The file
\Device\HarddiskVolume2\Windows\SoftwareDistribution\Download\9e0ac098b282aa922e874fe9c2e52396_ctc\Windows10.0-KB4574727-x64.cab is infected with Trojan.Ciusky.Gen.13. The threat has been successfully blocked, your device is safe.
The process
C:\Windows\WinSxS\amd64_microsoft-windows-servicingstack_31bf3856ad364e35_10.0.18362.1073_none_171f6eef2a0feed0\TiWorker.exe manifests ransomware behavior and was blocked. Your files have been protected from being altered.
A Bitdefender user said:
"My Antivirus said that this update KB4574727 had a Trojan in it so it is in Quarantine. I have Bitdefender Total Security. I am going to uninstall the update because I'm not sure what else to do. There was also another update KB4576484 and I will uninstall that one as well just in case."
Someone also tweeted a screenshot of the error alongside a brief description of the problem.
@Windows @WindowsFrance@Microsoft @microsoftfrance
It seems like the update KB4574727 got infected by a trojan pic.twitter.com/lAKnc5zgtH

— Mai 10 (@W74964840) September 9, 2020
Responding to this tweet, Microsoft recommended the affected user to download the KB4576484 update via the Microsoft Update Catalog website. If you are looking to download the update via the Microsoft Update Catalog website, all you need to do is manually search for KB4576484 via the search bar, download and then install the security patch.
As of this publication, we don't know what is causing Bitdefender to block and flag this particular update as Trojan.
In related news, Windows 10 is inadvertently blocking downloads when AppLocker is enabled after updating the Microsoft Defender Antivirus Antimalware Client to version 4.18.2008.9.
Windows 10 users can't be blamed for their reluctance to install the update for security concerns. Recently, security researchers a new technique that can exploit Windows 10 themes to steal Windows account credentials, courtesy of 'Pass-the-hash' attack.
Is your Bitdefender Antivirus blocking and flagging the KB4576484 update as a Trojan? Let us know in the comments below.