In early days, when no social networking tools existed, there were as few as 34 original MVPs. The number now exceeds up to 4000. Those were the days when experts in Microsoft technology provided their assistance not through Tweets or Facebook comments, but via much dedicated CompuServe forums.
Today, things have changed! Calvin Hsia, developer of the Visual Studio team who was one of the participant in the forum then, thought of creating a list that could easily check active participants of the forum engaged in addressing customer issues. He created a database of participants responses and realizing the values of these contributors came up with the community. The rest is the history! Microsoft identified 34 from the "Calvin's List" and the MVP Community was formed!
The community which had a strength of just 34 leaders was the first to form the original roster of Microsoft Most Valuable Professionals. They were often referred as 'Microsoft's Most Verbose Professionals' then, he recalls.
They were often invited to attend Microsoft Tech-Ed as part of their award. Today, instead of being invited to meet at Tech-Ed, MVPs are invited to the MVP Global Summit, one of the largest customer event on Microsoft's campus and the biggest community event in the world. Since, the population of this community has grown by manifolds.
The community is poised to celebrate its anniversary next month. The Microsoft MVP Award is about to complete 20 years. Calvin Hsia still keeps a see-through mouse as his memories of the earliest MVP Award. There's a picture of it shown below. He, till date, also holds the joining letter to Microsoft which he received from Patti Stonesifer, CEO of the Bill and Melinda Gates Foundation.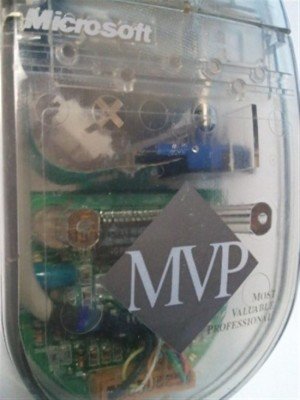 Go here to find out how to become a Microsoft MVP and what it all means!
Via MSDN blogs.