After Google, it's DuckDuckGo that has been blocked by China. DuckDuckGo, a privacy focused search engine that protects user's privacy by not tracking their searches, has been blocked by China, as per the tweet posted by its CEO and founder Gabriel Weinberg.
Weinberg, in response to a query posted by a correspondent from a news site, tweeted and broke the news about the search engine being stalled in China.
DuckDuckGo has recently been on a roll after Apple announced that it would be adding them as the default search options for Safari in iOS8 and Mac OS X Yosemite. Also DuckDuckGo has collected many accolades around the internet world since it follows the policy of not tracking the user's details while they are searching. This is opposite to Google and many other search engines that collect personal information about their users.
Blockedinchina.net is also showing DuckDuckGo as blocked in major Chinese locations including Beijing, Shenzen, Inner Mongolia, Heilongjiang Province and Yunnan Province.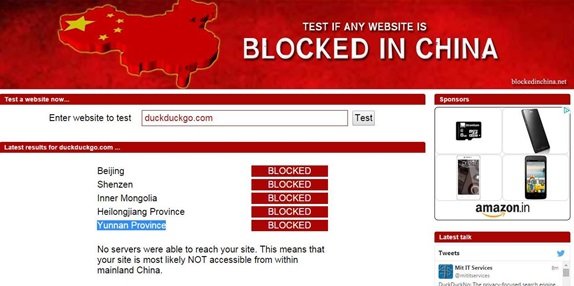 So with Google already blocked, and DuckDuckGo meeting the same fate, it has almost become a luxury if you get to access search engines while travelling across China. The other options could be to use domestic sites like Baidu. However, if you are an iPhone user it is best to carry a backup device that does not have DuckDuckGo as the default search choice.
For now it has become increasingly tough for the world's best search engines to operate  in China amidst tough censorship laws enforced by the Chinese government. Chinese laws advocate blocking certain information from its citizens and have strict restrictions on search engines in displaying certain pieces of information.