Google Chrome web browser has just hit its 50th release. Chrome today posted a detailed infographic on the official blog, showcasing the big and impressive numbers. As per the infographic, Google Chrome, originally launched in the year 2008 has now surpassed over 1 billion users on mobile.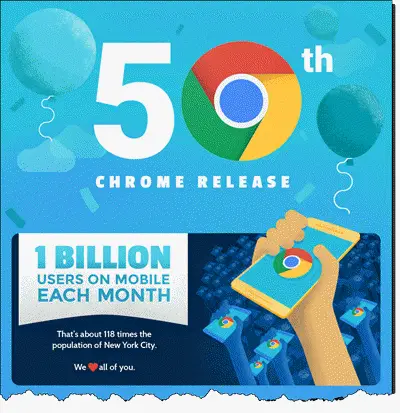 Chrome says,
"We're obsessed with stats, so we thought you might enjoy a whirlwind tour of Chrome, by the numbers."
The stats revealed in the infographic state that the browser has passed-
771 billion pages loaded each month
500 billion characters not typed each month thanks to search autocomplete
2 million gigabytes less of data used each month thanks to Chrome's data-saving features
6 billion webpages translated automatically each month
1 billion forms and passwords automatically filled each month
145 million times that users are protected from malicious pages each month thanks to Chrome's smart warnings
$2.5 million in rewards offered to the security research community to strengthen Chrome.
Google Chrome is already a market leader worldwide and the infographic Stat Counter specifies the figures. Some basic beneficial factors of Chrome taking it on top include its speed, privacy, security, other Google services and web apps, Google share, worldwide reach, new features and regular updates.
Chrome comes as a default mobile browser in almost every Android device and offers a consistent interface with fully functional browsing features. And, Google stands out for all good it has done to the users.
Go here to see the full Infographic.