As we already know, attackers are using the coronavirus COVID-19 outbreak as an excuse to spread malware. Ransomware attacks are highly common these days. Recently, malware disguised as coronavirus tracking apps triggered a ransomware attack on the victim's smartphone.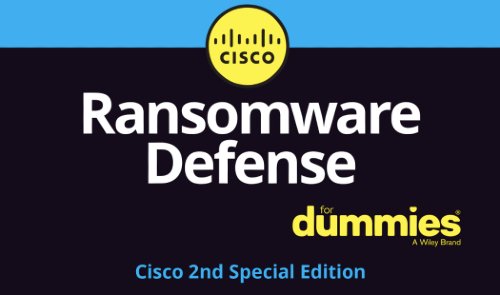 Ransomware attackers lock users out of their data and charge their victims money to get access restored. Most of the ransomware attackers threaten to leak the victim's private, sensitive data, which often results in an online sextortion scam.
Ransomware threats affect both individuals and businesses. During these challenging times, defending against ransomware attacks is of paramount importance for both businesses and individuals, especially since companies these days are more vulnerable to cyber threats, courtesy of workplace disruption caused by the ongoing coronavirus COVID-19 outbreak.
Ransomware Defense for Dummies (2020) now available
Ransomware threats affect all major industries including healthcare. Meanwhile, a few 'responsible' hacking groups have promised they will not attack hospitals. Given the circumstances, Cisco is providing users with a free, updated ebook — Ransomware Defense for Dummies.
"The rise of ransomware over the past few years is an ever-growing problem that has quickly become an extremely lucrative criminal enterprise. Targeted organizations often believe that paying the ransom is the most cost-effective way to get their data back — and, unfortunately, this may also be the reality."
Just to give you a brief overview, Ransomware Defense for Dummies consists of five short chapters, as follows:
How it operates and its defining characteristics
Cybersecurity best practices to reduce risks
A new best-of-breed network security architecture
The Cisco Ransomware Defense solution
Important defense takeaways
If you want to download the updated copy of Ransomware Defense for Dummies, you can check out the official Cisco web page. You will be required to register with your email ID.
Researchers have discovered that ransomware attackers exhibit a pattern while carrying out an attack. While most of the ransomware attacks start with Remote Desktop Protocol (RDP) or other remote access, phishing with malicious link or attachment is also a common intrusion technique. Microsoft is also cracking down on coronavirus-themed phishing attacks.
For your information, should you feel the need, there are many free Ransomware decryptor tools available to download.