The coronavirus COVID-19 infection has spread across all 50 US states and almost all major countries, resulting in more 10,000 confirmed fatalities around the world so far. In the past few weeks, the number of diagnosed cases has dramatically flooded into the hundreds of thousands and both the spread of infection and testing have elongated fundamentally. Social distancing is broadly observed as the best possible means to "flatten the curve," an expression that epidemiologists use, hoping to reduce the spread of infection.
Coronavirus websites to track COVID-19 outbreak
As the coronavirus outbreak is turning out to be catastrophic with each passing moment, tech companies and individuals are making it possible to track the number of COVID-19 cases worldwide. We have compiled the list of apps and websites that allow people to track the coronavirus situation across the globe:
Johns Hopkins University's real-time dashboard
Bing's COVID-19 dashboard
NCOV2019 website
HealthMap Project
HERE dashboard
Worldometers dashboard.
Let us take a look at them.
1] Johns Hopkins University's real-time dashboard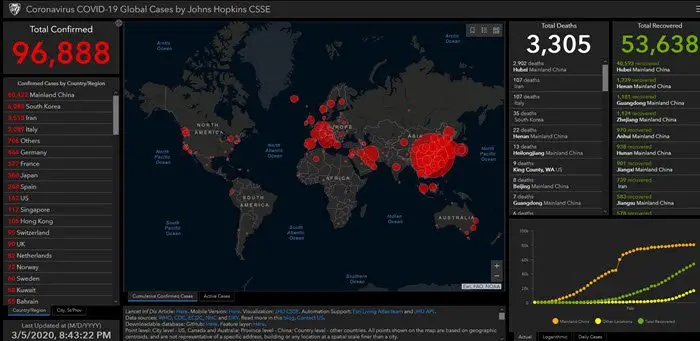 Johns Hopkins University's real-time coronavirus tracking website offers comprehensive data sourced from WHO, CDC, ECDC, NHC, and DXY. It offers real-time confirmed cases, total deaths, and complete recovery. The information is presented in such a way that one can easily discover everything they want to know at a glance. It also offers a graph of new cases being identified across Mainland China and other countries.
Meanwhile, the US federal agency Centers for Disease Control and Prevention (CDC) has set up its informational website that keeps Americans updated with coronavirus-related resources. It offers preventive measures and community resources to slow the spread of infection.
2] Microsoft Bing's COVID-19 dashboard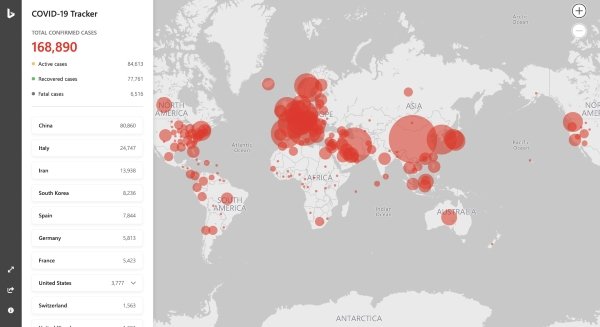 Folks over at Microsoft Bing recently launched a new web portal, aiming to help people keep track of the COVID-19 outbreak across the world. The website contains data such as a total number of coronavirus cases worldwide. These numbers are further divided into three subcategories: Active cases, recovered cases, and fatal cases. The website also shows the latest news articles and videos related to the outbreak.
TIP: Windows 10 lets you launch the Live Bing Covid-19 Tracker via Start Search.
3] NCOV2019 tracking website
Avi Schiffmann, a 17-year-old student from Seattle, has created a website that allows visitors to track coronavirus cases around the world. The website has reportedly garnered more than 12 million individuals since it first launched in December. The website collects information from various sources and offers details on confirmed cases, deaths, serious cases, and recovered cases. Schiffmann's website also shows region-wise data for select countries.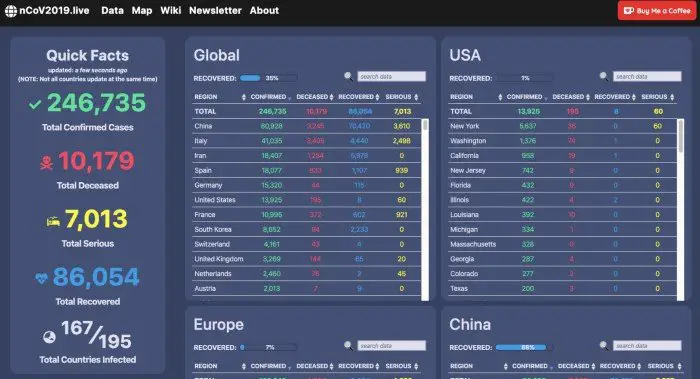 As soon as you open the website, on the left-hand side, you will find all relevant information at a glance. There is a list of confirmed cases, followed by total deceased, serious and recovered cases and so on. Interestingly, Schiffmann's web portal also shows a percentage meter revealing the rate of recovery. The website is accessible at ncov2019.live.
4] HealthMap Project
The HealthMap project diagrams the COVID-19 outbreak in real-time. You can likewise visit the website to discover data on all ailments, not simply COVID-19, in explicit regions in the previous week. It provides visitors with data related to affirmed cases, shading codes the quantity of conclusions by area, and shows the spread of the infection as an activity. The data originates from openly accessible sources including government reports and the news media.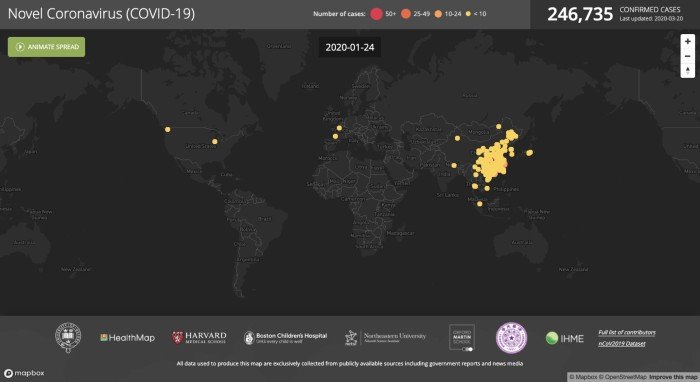 HealthMap project came to existence in 2006 at Boston Children's Hospital. The HealthMap project is supported by a global team of contributors from top healthcare organizations. The dashboard is accessible at healthmap.org/covid-19.
5] HERE dashboard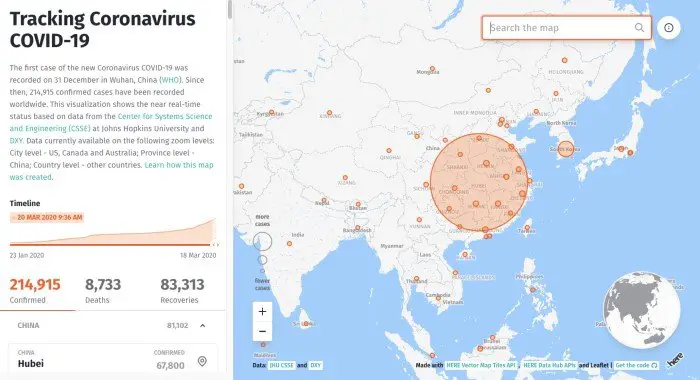 Developers at HERE Technologies created a dashboard to allow users to track the spread of the COVID-19 infection in the form of visualization, which is based on data sourced from the Center for Systems Science and Engineering (CSSE) at Johns Hopkins University and DXY. The visualization is divided into three categories: City, province, and country. However, city-level data is available for select countries like the US, Canada, and Australia. Meanwhile, province-level data is limited to China. The website is accessible at app.developer.here.com/coronavirus.
6] Worldometers dashboard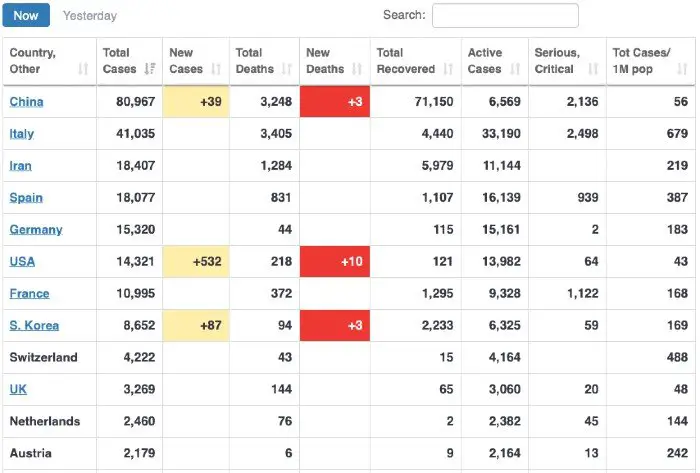 Last but not least, the Worldometers dashboard is much more than a mere visual representation of the spread of the disease. In addition to data such as confirmed cases, deaths, and recovered cases in a graphical form, the website also provides visitors with detailed statistics on active and closed cases. Furthermore, it comprises the latest news related to the COVID-19 outbreak and informational resources on how dangerous and contagious is the virus. You can access the Wordometers dashboard at worldometers.info/coronavirus.
BONUS TIP
Identify COVID-19 infection using MIT's app for iOS, Android Phone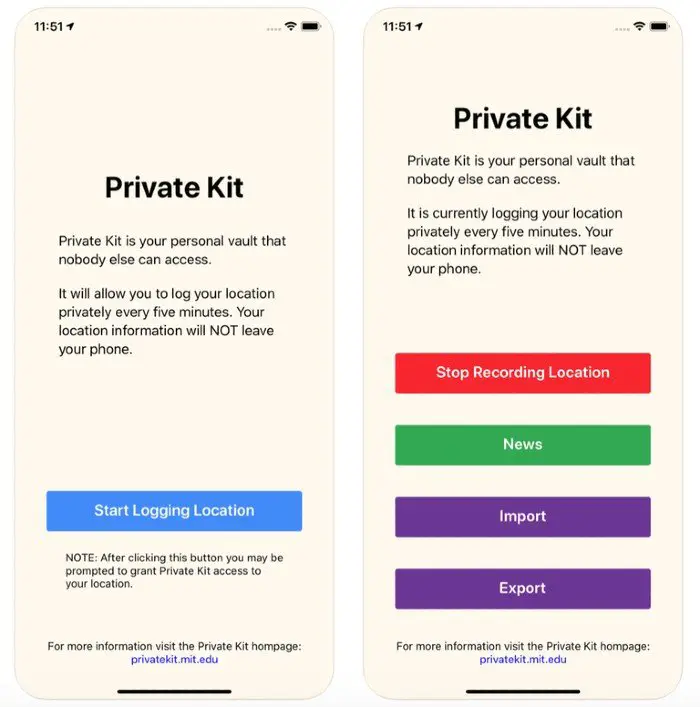 Now this one is not a website- but a good app to have on your phone.
While security researchers continue to observe a widespread increase in terms of coronavirus related malware apps on Google Play Store, MIT scientists are prototyping a new app that allows people to know who they have crossed paths with. The app called Private Kit uses is available to download for both Android and iOS users. It uses your location data, which is encrypted. People diagnosed with coronavirus infection may share their data collected through the app.
Read: Coronavirus COVID-19 scams, frauds and cybersecurity threats you need to be aware of.
Please feel free to add links to any such similar genuine websites that track COVID-19.