Humanity right now is going through a tough time with the outbreak of the Coronavirus COVID-19. While one can safeguard themselves by following hygienic methods, but it is scary. Apart from following preventive measures, you can also track the Coronavirus COVID-19 virus in real-time. It is, of course, based on reports and as the data gets updated by multiple sources.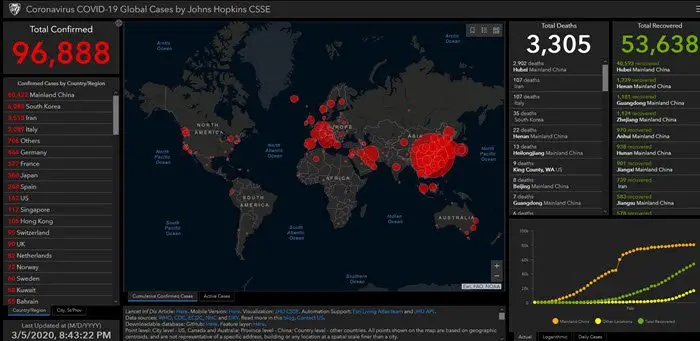 Track the Coronavirus COVID-19 virus
Johns Hopkins University is offering real-time tracking of the deadly virus. The map sources include WHO, CDC, ECDC, NHC, and DXY. These points are based on countries, and it is not offering any street address or person name who is infected or is in quarantine. Also, it would be a good idea to connect with local authorities for more accurate results.
The website offers real-time confirmed cases, total deaths, and complete recovery. It is good to see that many people have recovered from the virus, and its probably because of precautions and medicines.
The next thing is a graph that compares the cases reported in Mainland Chine, other locations, and people who have recovered. It gives you a clear idea of how bad things are in China, which was the source of the outbreak.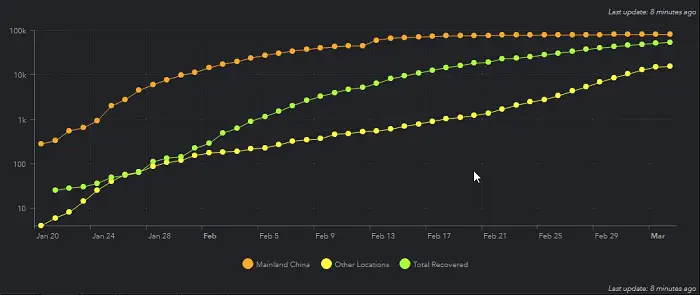 To find out confirmed cases based on country, take a look at the Data graph.  There are twelve countries which I see at the time of writing. The second worst case is of South Korea, which has over six-thousand cases reported, followed by Italy, which reports over three-thousand cases. The graph also includes citizens from the Diamond Princess ship, which is currently designated at the ship's port located off the coast of Japan. According to the website, these individuals have been assigned to various quarantine locations around the US.
If you visit the desktop version of the map, you can live track of how many people have recovered from the Coronavirus and which location. It includes a list of people from China, the US, Russia, Oman, and more.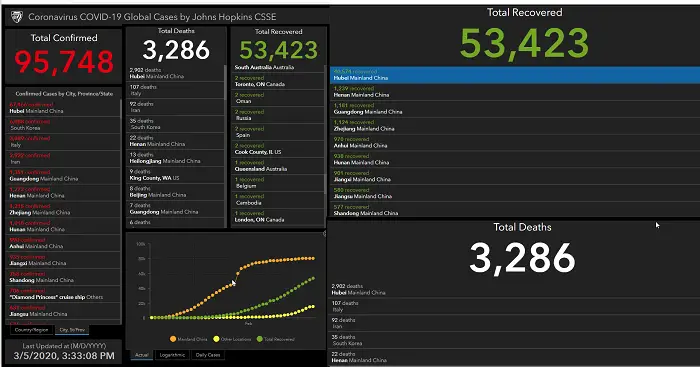 While it is sad to see so many deaths, but looking at the recovery percentage, it is hopeful as well.
A lot of companies have asked their employees to work from home. Events like Google IO has been canceled. On top of these, Google and Microsoft are offering their video calling and team software for free.
Here is a list of Coronavirus websites to track the COVID-19 outbreak online in real-time.
Let us all hope that a cure comes out soon for the virus, and we all can get back our healthy life.