The Coronavirus outbreak has prompted many tech giants to come up with unique tools that can play an important role in protecting the health of communities worldwide. Spearheading this campaign is Microsoft. The software giant has built up a web portal to track the number of COVID-19 infections, spread globally. Its Live Tracker, named Bing COVID-19 Tracker will help Internet users track the spread of infection worldwide.
Launch Bing Covid-19 Tracker via Windows 10 Start Search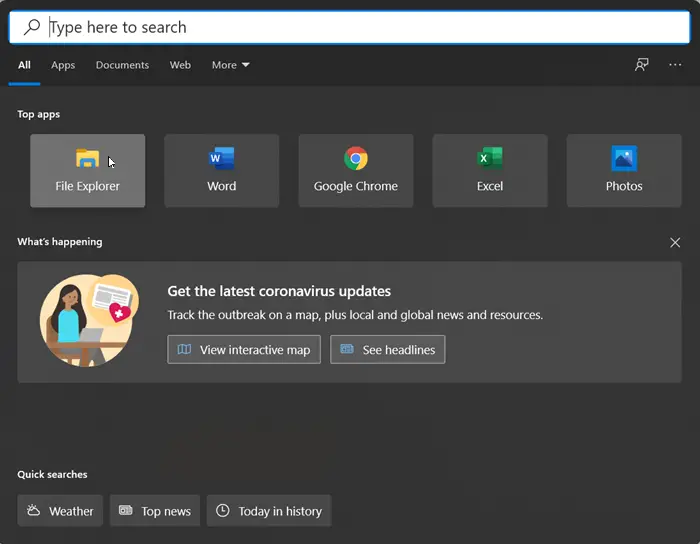 Microsoft has integrated this capability within Windows 10 Search. As such, you don't need to install any app. Just click inside the Windows 10 Search icon to get the latest COVID-19 updates.
To track the outbreak, you can either select the
'View interactive map' tab or
'Headlines' tab
The former tab walks a user through Bing's interactive map, where Covid-19 hotspots are displayed as red circles with the breakdowns of the number provided alongside it. Here, you can get all the information regarding the numbers of
Active cases (infected with the coronavirus)
Fatal cases
Cases recovered
These statics can either be viewed on a global or per-country basis. Besides, there are also links provided to the latest news stories via 'See Headlines' tab.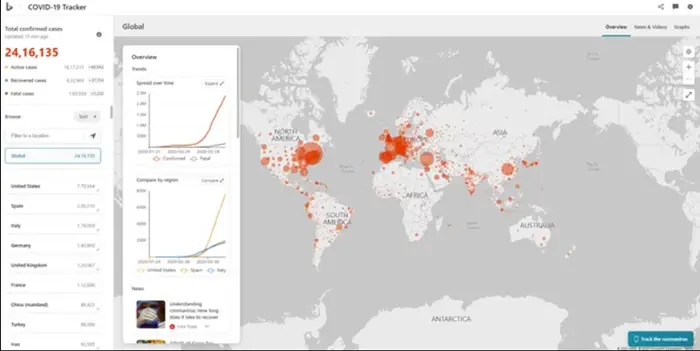 The website offers up-to-date infection statistics for each country. The data is being aggregated from sources like,
US Centers for Disease Control and Prevention (CDC)
European Centre for Disease Prevention and Control (ECDC)
World Health Organization (WHO)
Microsoft's Michael Schechter (General Manager for Bing Growth and Distribution at Microsoft) revealed that a large number of Bing folks worked from home to create a mapping and Bona-fide news resource for COVID19.
If you would like to keep yourself informed about the pandemic, try Bing's new Live Covid-19 Tracker.
Stay alert, stay home, stay safe!