Microsoft aims to make your workplace more productive and efficient. This seems to be the agenda of the recent releases as well. Hence, the new capabilities released in February include several important security updates and use of Artificial Intelligence in the workplace related applications. One of these capabilities will let you convert a photo table into an Excel sheet.
AI to Excel: Convert photo table into an Excel sheet
Microsoft's team announced the release of new capabilities related to Microsoft 365 a few days back. Few of these capabilities allow you to manage tasks and capture data with ease. With the help of one of such capability, Insert Data from Picture, you can add data to Excel directly from a photo. This means, if the photo has a table in it, you can convert it into a spreadsheet. Thus, it will save the tedious work of entering the data manually.
How does it work?
As mentioned by Corporate Vice President for Microsoft 365 in his blog on Microsoft,
"Using the Excel app, you can take a picture of a printed data table on your Android device and automatically convert the picture into a fully editable table in Excel. This new image recognition functionality eliminates the need for you to manually enter hardcopy data."
Following images depict the example of how to convert a photo table into an Excel.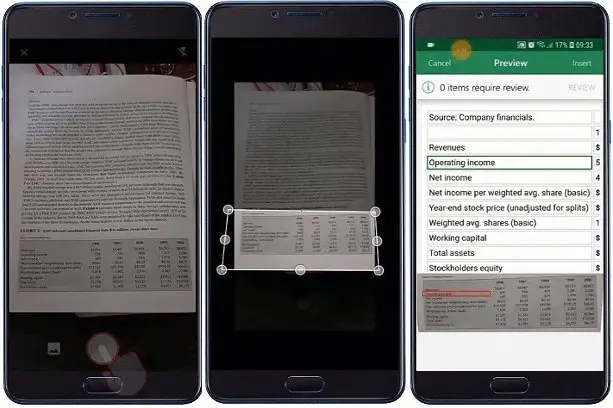 The new image recognition functionality automatically converts the picture to a fully editable table in Excel, eliminating the need for you to manually enter data. Insert Data from Picture will be available in preview for the Excel Android app soon.
More new capabilities with Excel
Microsoft has given more power to Excel with additional capabilities. Apart from the new feature to convert photo table into an Excel, following are the new artificial intelligence (AI) features that make Excel even more powerful:
Ideas
New data types
Dynamic arrays
Ideas is an AI-powered insights service that helps people take advantage of the full power of Office. Proactively surfacing suggestions that are tailored to the task at hand. Ideas help users create professional documents, presentations, and spreadsheets in less time. In Excel, for instance, Ideas helps identify trends, patterns, and outliers in a data set—helping customers analyze and understand their data in seconds.
With new data types, Excel can do even more. It is now possible to recognize real-world concepts, starting with Stocks and Geography in Excel. This new AI-powered capability turns a single, flat piece of text into an interactive entity containing layers of rich information. For example, by converting a list of countries in a workbook to "Geography" entities, customers can weave location data into an analysis of their data.
With dynamic arrays, Excel gets more advanced formulas that are easier to use. Using dynamic arrays, any formula that returns an array of values will seamlessly "spill" into neighboring unoccupied cells, making it as easy to get an array of values returned as it is to work on a single cell.
Read more about the latest releases in Microsoft's article.