Microsoft is already bridging the gap between Windows 10 and Android devices, courtesy of the Your Phone app, which allows users to manage their Android phone notifications, messages, and calls on Windows 10 devices. Now, Microsoft is taking this integration to a whole new level.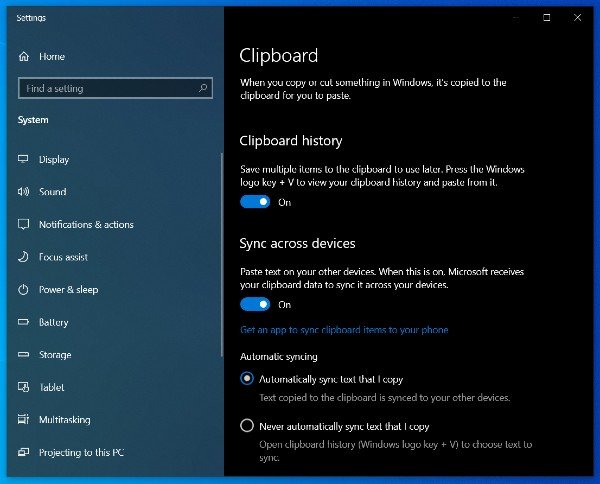 Clipboard data sync coming soon to Android
Microsoft is working to bring a cross-device copy-pasting feature to enable clipboard data sync across Windows 10 and Android devices. This way, mobile users can seamlessly copy items on their Android device and paste to their Windows 10 machines in real-time and vice versa.
Microsoft has already implemented the Cloud Clipboard facility in Windows 10. Now, the company is highly likely to enhance this feature with the upcoming OS updates.
Soon, Microsoft is expected to allow Windows 10 users to copy-and-paste clipboard data across all of their 'signed in' devices, courtesy of the company's Azure cloud computing services.
Back in 2018, Microsoft added its Cloud Clipboard facility to the Windows 10 operating system, allowing users to synchronize clipboard content across multiple Windows 10 machines linked to the same Microsoft account.
This feature allows Windows 10 users to copy text to the clipboard on their desktop and paste it into a document stored offline or on the cloud on the other Windows 10 laptop or a machine later in the day.
It looks like the company is now working to extend its cloud-based cross-device copy-pasting functionality to Android phones and tablets, courtesy of the company's SwiftKey keyboard app for Android.
There are a couple of ways Microsoft is may implement this feature. Microsoft will either use the Microsoft launcher app on Android or go for the Your Phone app integration.
In Clipboard settings, Windows 10 allows users to sync across devices. As the name suggests, the settings will allow users to paste text on their other devices. When the feature is turned on, Microsoft receives clipboard data to sync it across other devices.
It also allows users to get an app to sync clipboard items to their phone, courtesy of Microsoft Launcher. However, users may still want to download and install the SwiftKey app. For now, the feature doesn't seem to be working.
Another possibility is that Microsoft will implement this feature via the YourPhone app to extend clipboard sync functionality to Android.