Gaming and battery backup are often mutually exclusive to each other. Most of us realize that gaming guzzles up all the power and drains the battery quickly as opposed to normal usage. Well, the new Corsair wireless gaming keyboard is set to fix it by offering a 75-hour battery right. Yes, you heard it right a top of the line gaming keyboard is offering a staggering 75-hour battery backup.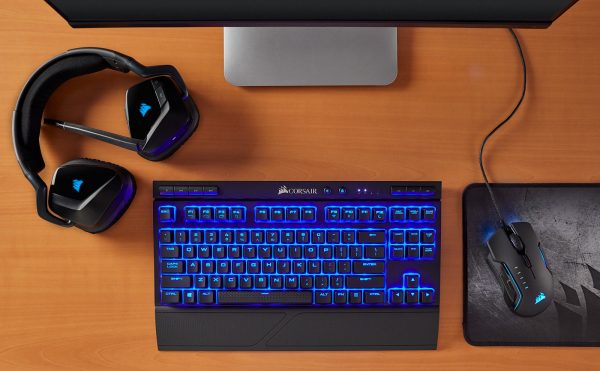 Corsair showcased the laptop at the ongoing CES along with a mousepad that doubles up as a Qi charger. The Corsair Keyboard comes equipped with a Cherry MX RED mechanical keys and is touted to run for 75-hours despite the backlit keys. While the rated battery backup may differ from the one obtained during real use cases. However, even if the Corsair keyboard battery lasts for anywhere between the 60-75 hours mark, it will be remarkable.
Corsair has also thought about the security, and hence the new keyboard comes with an encrypted wireless feature that is aimed at deterring the eavesdroppers. That being said, if you still prefer relying on a USB keyboard, you can do so by plugging in the USB cord. As a gamer, I have been left in the lurch during gameplay, thanks to the dismissal battery backup of both the mouse and the keyboard.
Moving on, Corsair has also pulled the wraps from the all-new MM1000 Qi wireless charging mousepad. As the name suggests, the charging pad would wirelessly charge the compatible mouse thus ensuring that you never ever run out of juice. The best part is that the wireless charging mousepad will also charge smartphones like the Samsung Galaxy S8 and the iPhone X. Additionally the wireless charging mouse pad comes with a micro USB and Type-C USB port to charge other gadgets.
Corsair's new wireless gaming keyboard is priced at $130 while the mousepad plus wireless charging pad will cost $108. If you are an avid gamer, I see both the products are worth its salt. That being said both the Corsair Keyboard and the mouse would be available this month.