Back in July of this year, Microsoft released a private beta version of the Cortana app for Android devices and the millions of users. As expected, it made headlines everywhere, but despite that, it didn't possess the goods to replace Google Now, well, until now.
With the latest version of the Cortana app for Android devices, the Microsoft built digital assistant can now become the default, kicking Google Now to the curb. Users can replace the Google Now shortcut by pressing and holding the home button. This would ultimately bring Cortana to the forefront.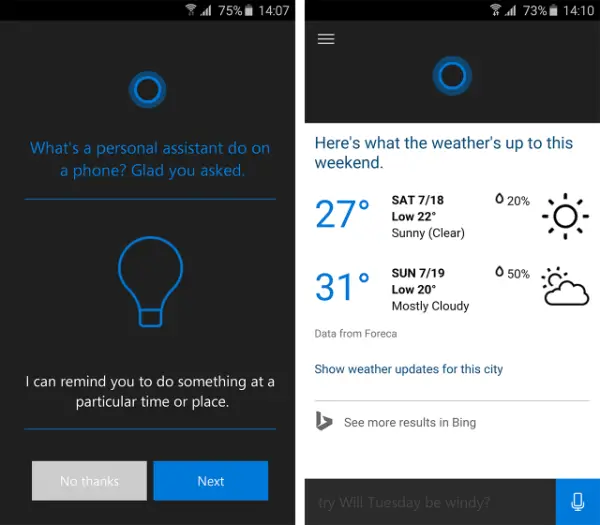 This is one of the most common ways of gaining to access to Google Now, and Microsoft is banking on the idea that many Android users would want to travel down this path.
Still, the service is behind in one critical factor, and that is voice activation. Android users can utter the words, "Hey Google" to get Google Now up and running without ever having to press a button. Cortana can do the same thing on Windows 10 devices if users say, "Hey Cortana."
The problem is, it doesn't work on Android, well, not for the time being. So folks who are used to talking with their mobile device might not see the need to make the move to Cortana any time soon.
As we've stated above, the Cortana app for Android is currently in beta, which means, not every will gain access. However, should any Android user want to give Cortana a test run, Microsoft is hosting a sign-up process for the beta, so folks should get to it before it goes away.
Cortana for Android is far from ready for prime time and is not yet in a position to be compared to the version available in Windows 10. It also means users have less of a reason to pick up a smartphone that is powered by Windows 10 Mobile.