Microsoft announced that they are encouraging efforts to help democratize Artificial Intelligence (AI) by focusing on conversational computing, which combines the power of natural language with advanced machine intelligence to help people engage with technology in more natural and personal ways.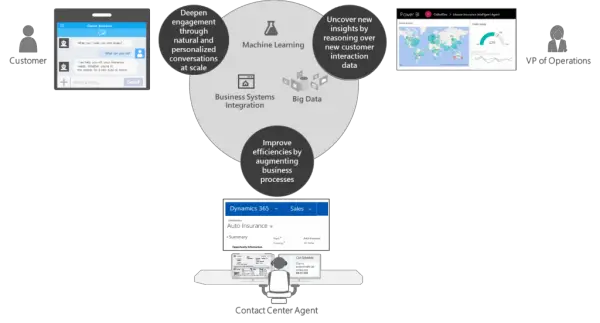 A big example of an enterprise making complete use of Cortana's skills is at Rockwell Automation, which provides industrial automation and information solutions to customers in more than 80 countries. Rockwell Automation used the Bot Framework and Cognitive Services in Cortana Intelligence to build Shelby, a bot that monitors production more efficiently and lets managers know the status of their operations through more natural forms of interaction.
"Our customers need to move quickly to meet their goals. Shelby™ gives them an entirely new way to interact with their environment. The health and diagnostics of their production is critical to make the decisions that matter." said Paula Puess, Global Market Development Manager, Rockwell Automation.
Yet another example is in the health industry. Australia's Department of Human Services (DHS), an arm of the government responsible for delivering social and health related services and payments, is in process of building a concept to deliver intelligent customer experiences powered by Deep Learning. Using Cortana Intelligence, DHS is building a system that helps employees respond faster and more effectively to queries by integrating bots with a deeper level of human and contextual understanding.
Microsoft lists these ways in which conversational bots take the integration of artificial intelligence in enterprises to the next level
Bots use social and historical context to infer intent and make recommendations that are actionable in the context of the conversation.
Bots automate workflows and task completion with existing systems in the context of the business process.
Bots help uncover new insights about customer challenges and preferences by being able to capture and reason over all the customer interaction data.
Microsoft also announced today their 'Microsoft Bot Framework' that includes the Bot Builder SDK, Bot Connectors, Developer Portal, Bot Directory and an emulator to use and test your bots. These can be downloaded by registered developers aiming to integrate it into businesses or organisations.
To help with smooth integration of these bots into your business, Microsoft recommends Microsoft Azure Bot Service that is purpose-built for bot development and will accelerate the process. The Azure Bot Service allows you to get started quickly with built-in templates, scale and pay on demand as your needs grow over time, and reach users on multiple channels including from your app or website, via text/SMS, Skype, Slack, Facebook Messenger, Kik, Office 365 email, and other popular services.