How about a talking fridge that tells you about the stock going low or what you have stored in the fridge? Well, this will be possible in the near future as Microsoft's very own personal assistant, Cortana, is all set to appear on the IoT devices as well. Microsoft announced that users will be able to get Cortana's assistance on IoT devices in the year 2017. However, for Cortana on IoT devices, the devices have to have a screen. So, the devices that are on the IoT network, but don't have a screen, cannot have Cortana installed on them.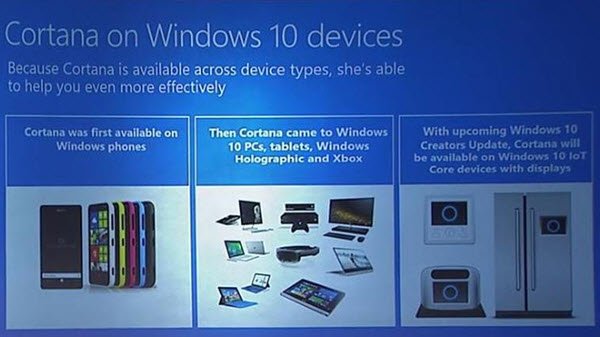 Cortana on IoT devices
As per a report, this announcement is a part of Microsoft's Windows 10 Creators Update. The Windows 10 Creators Update of next year will include the ability for Cortana to work from across the room with certain Internet Of Things devices. However, it will have only one condition: screens.
Microsoft calls Cortana as a "truly personal digital assistant". This definition will now be extended when Cortana will start appearing on the screen of certain IoT devices. In a session called as "Cortana and the Speech Platform" that took place in Shenzhen last week, Microsoft provided updates regarding Cortana on IoT devices.
The report on ZDNet says about Cortana on IoT devices,
"Microsoft Principal Program Manager May Ji outlined the ways that Microsoft wants its PC and device partners to make use of new "Wake on Voice from Modern Standby" and "Far-field Voice" support that's being added to Windows 10 with the Creators Update that's due out in the Spring of 2017. Wake on Voice from Modern Standby is a feature that allows Cortana to turn on PCs from off to a full-powered state on devices with Windows 10 "Modern Standby" power-management support. Far-field voice is what will allow Cortana to work in rooms with ambient noise at a distance of up to 13 feet/4 meters away."
Cortana has undergone several changes recently. With the Windows 10 Anniversary Update released in early August 2016, Microsoft provided a first step toward making Cortana work better with PCs from afar. The 'immersive Cortana experience' in Windows 10 Anniversary allowed Cortana to work above the lockscreen. With Windows 10 Creators Update Cortana on IoT devices will come with more capabilities.
Some people may compare Cortana on IoT devices to Amazon's Echo and Google's Home. However, Cortana will work on devices only with screens, not those without screens.