Every business has lots of data and it is this the data that drives a business. Data remains a company's biggest asset. And for a company or an organization having large number of working employees each trying to add data, managing such large information becomes quite difficult. It becomes much more difficult to synchronize the work flow among a large working force, when the company's primary aim is towards information building and sharing content.
Microsoft has been pioneering research right from the beginning and I have discussed several of Microsoft Research's projects, including Chronozoom, recently. In its quest to provide the best management tools, Microsoft has already provided us with many feature set applications. To manage large data with infinite resources, we have Windows Azure, the cloud platform.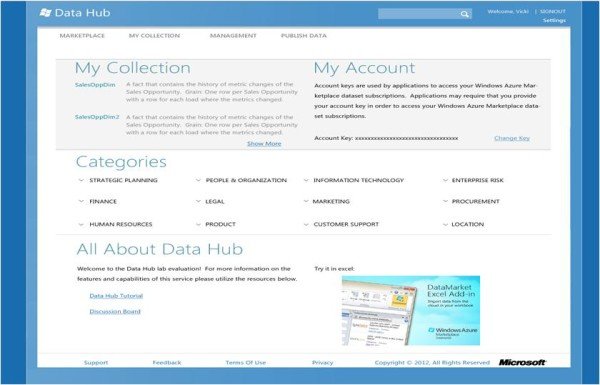 In this post I am going to discuss yet another research project called as Data Hub, which primarily aims at publication and distribution of data. Data Hub is a project of SQL Azure Labs and runs on cloud platform.
The key features of Data Hub are:
1) Easy Publication and Distribution of Data
Data hub maintains data just like any CMS application and produces data artifacts such as reports, templates, models and visualizations.
2) Seamless Data Discovery and Consumption
Data Hub provides social collaboration and environment to the knowledge workers that can help workers to discover, consume cleansed and certified enterprise data as well as community driven data.
3) Flexible Data Management and Monitoring
IT can easily provision a "Data Hub", manage its content and access permissions. Usage telemetry enables IT to monitor consumption.
Data hub not only saves time, but also makes things lot easier.  You can build working model in minutes, edit pages easily with point and click simplicity. You just need to configure Data Hub and all your data goes into it. Data hub gives you ability to provision new instances via self served administration portal.
You can explore Data hub here using Windows Live ID here.