Every year in February, Safer Internet Day 2013 is organized by Safe, the Certificate in Social Networking and Makewaves, the social learning environment. The idea being to promote safer and more responsible use of online technology and mobile phones, especially amongst young people across the world.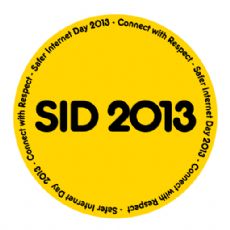 This year, the theme for Safer Internet Day 2013, being held on Tuesday 5 February 2013 is  'Online rights and responsibilities', where the organizers will encourage users to 'Connect with respect'.
To acknowledge those who work in this direction, a digital badge for Safer Internet Day 2013 has been released.
To earn a badge you have to:
Create content about SID2013 e.g. Blog post, Video, Poem, etc.
Upload your content to your Makewaves online profile
Submit your story to the Safer Internet Day Channel.
The accreditation system will use Mozilla's Open Badges technology.
To get your school involved and help your students earn their digital SID 2013 badge, you can create your own school site for free on Makewaves .
Via Microsoft.