Don't get Scroogled, says Bing! Microsoft's search engine, Bing has launched a campaign to help explain to holiday shoppers the risks of Google Shopping's Pay-To-Rank practice called "Product Listing Advertising," where the results which you see on Google Search are not the regular search results, but actually ads which are ranked by, in part, by one who pays the most.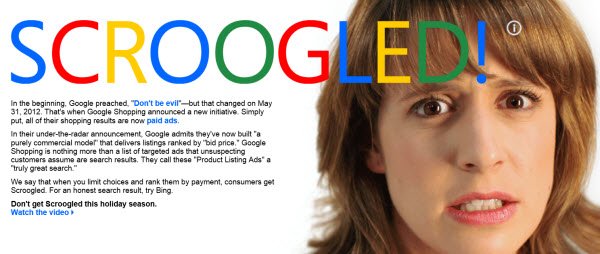 When you search for a Computer, instead of showing you the genuine results, Google's newly redesigned shopping vertical shows products based partly on how much they have paid Google. The higher they pay, the higher they will rank.
That's not right, it's not transparent, it's not what you expect from search, and it's not how we at Bing think search engines should help consumers get the best prices and selection when shopping, says Microsoft.
Google had quietly introduced this practice in recent weeks, just before Black Friday and Cyber Monday, to this pay-to-rank model called "Product Listing Advertising." Google Shopping is now calling results "listings." It replaced "product search service" with "paid listing ads" service. They even call out, non-transparently hidden behind a disclaimer or buried in a footer, "Payment is one of several factors used to rank these results."
Every product offer within the shopping search results on that page paid to be there, and where and how high they appear is at least in part dependent on how much they paid.  Meanwhile, at least one of biggest online retailers refused to pay Google's new fee, so you won't see any of their product offers and great holiday deals in shopping results, says Mike Nichols, Corporate Vice President and Chief Marketing Officer, Bing.
With this new Don't Get Scroogled campaign, Bing is telling holiday shoppers about the importance of getting unbiased, comprehensive search results when they shop online.
Head over to the website find out if you got Scroogled.