The massive Minecraft 1.16 Nether update is now available for Bedrock and Java versions, as expected. The update brings a whole host of changes and additions in the form of new worlds, biomes, mobs, and blocks.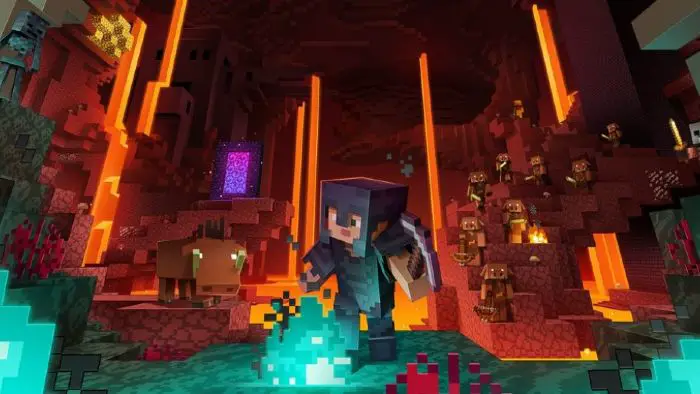 What's new with Minecraft 1.16 Nether update
The Nether Update brings new biomes, mobs, and blocks. According to Mojang, the update brings Netherite, something the dev teams describes as a powerful new material that makes diamond look like cobblestone. In its recent blog post entry, Minecraft's developer team wrote:
"Beware the Piglins as you either trade blows or strike a deal. Avoid the hideous Hoglins, or hunt them for a snouty snack. Explore the Nether Wastes, search the Soulsand Valleys, traverse the Basalt Deltas, or venture into the Crimson and Warped Forests."
The Nether 1.16 update applies to all the compatible versions of the Minecraft game including Xbox One, PlayStation 4, Nintendo Switch, iOS, Android, Windows 10, Windows, Mac OS, and Linux.
Folks at Mojang are also releasing a free Nether-themed adventure called "Way of the Nether" on its Bedrock-powered platforms. It includes a dimensional rift that appears in Poppy Isle and the mayor has gone missing.
Minecraft players have to find out what happened and save the mayor. For those looking to get it, visit Minecraft Marketplace and find "Way of the Nether." Once located, click the "Get this item" button.
However, Mojang says access to the free map requires the latest version of Minecraft Bedrock platform base-game with access to Minecraft Marketplace.
The Minecraft 1.16 Nether update has fixed nearly 500 issues. Here's how to install the Nether patch on Windows 10 and Xbox One.
Xbox One console gamers can navigate to "My Apps & Games", select Minecraft and hit the more options button. Now, select "Manage game & add-ons" from the list and check for available updates.
Similarly, Windows 10 users can go to Microsoft Store, choose the three dots in the top right corner, and select "Downloads and updates". Then, select "Get updates." This way, all your installed applications including Minecraft should update automatically.