Windows 8.1 August Update is now available for download from the Microsoft Download Center. Your Windows Updates may not be offering this update yet, as it is being gradually rolled out. So if you do not want to wait, you can download it directly now and install it.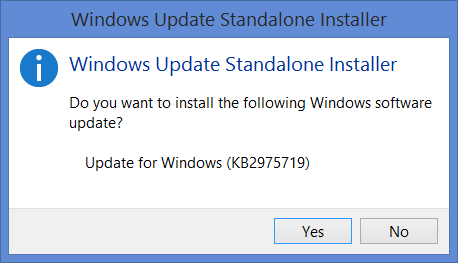 Windows 8.1 August Update
Windows 8.1 August Update or KB2975719, offers a couple of new features, enhancements and security and non-security fixes to the operating system. It is being described by Microsoft as an 'update to resolve issues in Windows'.
Apart from security as well as non-security updates for your operating system, some new features like Minimize login prompts for SharePoint Online, Precision touchpad improvements, Miracast Receive, etc will be introduced. The proposal to introduce a mini Start Menu has been dropped.
There are multiple files available with this Update. Select the files you need and click on the Download button.
You can download the Windows 8.1 August Update from here: 64-bit | 32-bit. The download sizes are is 171 MB for 64-bit, and 101.3 MB for 32-bit Windows.
Apart from this, 14 other updates are available for Windows 8.1 Pro.
UPDATE: Windows Update is now offering these updates.