Just a week earlier, DuckDuckGo moved past the 2 millions searches record in a single day. Days later, the private search engine achieves yet another milestone. The company claims it processed 3,095,907 searches on Monday.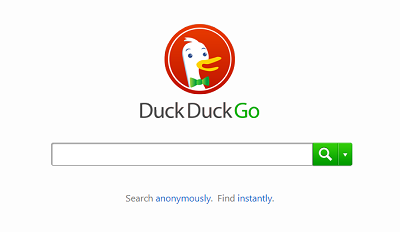 DuckDuckGo Search
Launched in 2008, DuckDuckGo received a considerable attention as Google alternative by not tracking what individuals were searching. It reached a million daily searches mark in February 2012 owing to the interest generated by Data Privacy Day. The small startup then soon crossed the 2 million mark and now we learn that the search engine has crossed even the 3 million mark.
Via a separate tweet on Monday morning, DuckDuckGo gave a snap-shot how quickly it achieved the milestone as compared to the time needed to reach previous milestones.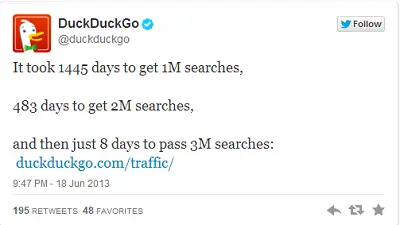 In my opinion, the private search engine is benefited by the Prism controversy which has tarred the reputation of most popular search engines for providing data to the US spying program. Post event, users have begun looking at alternative search engines, particularly 'Private Search' engines. And for those familiar with DuckDuckGo, it provides 'private' Internet searches.
Ever since the news of Google, Bing & Yahoo's involvement in the PRISM spying program broke out, every day has been the record-breaking day for Google's lesser search rival. DuckDuckGo's own data displays a set of statistics showing consistent rise in usage in recent times.