Europol (European Police Office) director, Rob Wainwrigh, has warned that use of encryption software to send online communications and access to the hidden areas of the Internet (known as the Darknet) by terrorists is the biggest worry in tackling terrorism and monitoring terror suspects. The dark web helped users to go online anonymously away from the eyes of the police and the security agencies.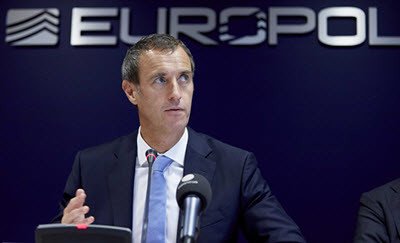 Use of encryption software – a Threat
Post former National Security Agency contractor Edward Snowden revelations on 1st November,  2013, tech companies like Apple, developed encryption programs to allow Americans to send coded messages and emails, which the government could not decode. This was done to restore the faith of the American people back in the tech companies. This helped to protect privacy of the American people, but as a fallout, terrorism too got its share of privacy, and terror suspects were able to escape detection.
Mr. Wainwright said that terrorists essentially operated through use of encrypted communications. He further said that the IS had 50,000 different twitter accounts tweeting about 100,000 messages a day. This extensive use of social media and sending encrypted messages highlights the challenge faced by security agencies in tackling terrorism.
His concern is further augmented by the fact that tech companies like Apple allow encrypting data using smartphones and the development of heavily encrypted instant messaging apps. This makes it very difficult or impossible for the police to access information. Recruits are invited from all over the world, making this a very dangerous situation.
In Wainwrigh's own words,
It's become perhaps the biggest problem for the police and the security service authorities in dealing with the threats from terrorism. It's changed the very nature of counter-terrorist work from one that has been traditionally reliant on having good monitoring capability of communications to one that essentially doesn't provide that anymore. We are disappointed by the position taken by these tech firms and it only adds to our problems in getting to the communications of the most dangerous people that are abusing the internet. [Tech firms] are doing it, I suppose, because of a commercial imperative driven by what they perceive to be consumer demand for greater privacy of their communications.
The current laws have to be modified to allow security agencies to monitor all areas of the online world, he felt.
Europol has set up a European Internet Referral Unit to identify and remove sites being used by terrorist organizations. In February of this year, Europol and the law enforcing agencies around the globe joined forces with tech firms including Microsoft, Symantec and AnubisNetworks and shut down the Ramnit Botnet, a network believed to have  infected 3.2 million computers worldwide, with malware.