Microsoft is redesigning LinkedIn in the coming days. As a result, LinkedIn's desktop interface will soon undergo a major design overhaul. It's been five years since the LinkedIn website received its last major redesign update.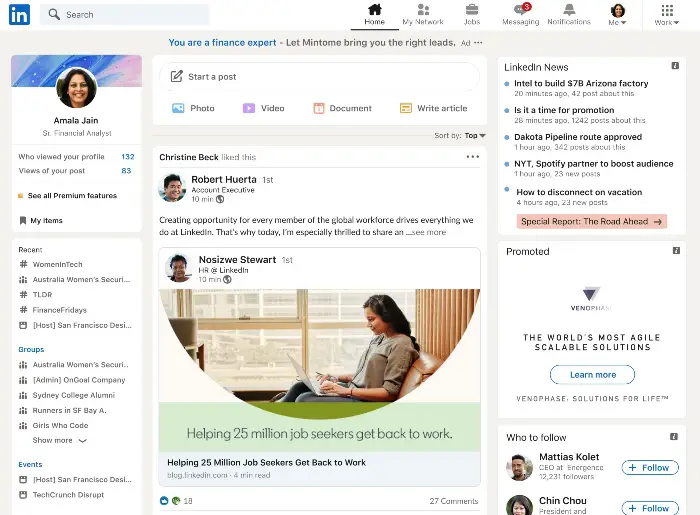 LinkedIn announces new features
"This new LinkedIn experience is warmer and embodies our diverse, inclusive and trusted community. It is also simpler, more modern, and more intuitive, allowing for easier navigation and discovery," said Ryan Roslansky, CEO of LinkedIn.
LinkedIn has promised to provide users with a streamlined search experience. It will help users search and discover people, events, groups, and content on a single page.
LinkedIn Dark Mode coming soon
LinkedIn has confirmed that a dark mode update is coming soon. What's more, LinkedIn has also added new illustrations to bring diversity to search results.
LinkedIn will also redesign how members find opportunities. LinkedIn has launched an "Open to Work" profile photo frame to indicate that you are looking for a job opportunity.
LinkedIn Stories now available
Earlier this year, LinkedIn revealed that it was working on ephemeral stories. In good news, LinkedIn Stories are now available in the U.S and Canada.
Want to post a Story on your profile? Open your LinkedIn app and tap the circle with your photo and a plus sign in the upper left corner. It will open the camera.
Now, record the video or take the photo directly through the app.
You can upload videos up to 20 seconds or an image.
Add a sticker or text or both.
Mention users with @ for maximum visibility.
Now, post your story.
New LinkedIn Messaging features
LinkedIn has announced a series of additions to Messaging. For instance, users can quickly join video calls and meetings via Microsoft Teams and Zoom over LinkedIn DMs. LinkedIn will prompt users to start video calls using Teams and Zoom directly from messages.
LinkedIn is also providing users with an ability to edit or delete sent messages. All you need to do is either press-and-hold or double tap on the message to open up a menu of options. LinkedIn users can also react to a message with an emoji.
LinkedIn has more than 700 million users worldwide.