Microsoft Edge Browser may not be the most widely used browser but it is slowly shaping up as a third choice for folks who want to shift from Internet Explorer, Chrome, and Firefox browsers. Microsoft has been adding features to the Edge browser slowly and steadily, in fact in the latest Windows Insider Preview build one can see a bucketload of features for Internet Edge. ESET, a cyber security firm has published its finding in its Windows Exploitation Report and has lauded Microsoft Edge due to the almost nil exploits.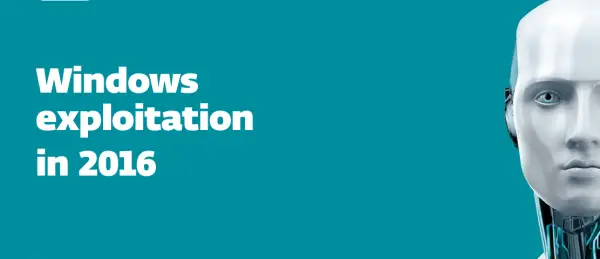 ESET Windows Exploitation Report
Despite being the newcomer in the report, Microsoft Edge, has been resistant to exploitation, and as a close second, it has been attributed with its first 111 vulnerabilities patched. Unlike IE, Edge keeps modern security features such as AppContainer or 64-bit processes for tabs turned on by default, which makes it less vulnerable.
Internet Explorer had 109 (from the earlier 242) known vulnerabilities with three still being exploited while the Edge didn't have any being exploited. As we were explaining earlier Microsoft has now decided to make the Edge Browser even safer as a result of which they have blocked the Adobe Flash by default and will allow the flash to run only after it has been whitelisted by the user.
The Windows Exploitation Report 2016 consists of the detailed statistics with regards to the vulnerabilities which are fixed in the Windows versions currently supported by Microsoft. The report further also analyzes the exploit mitigation in the recent Windows versions and also the efficiency with which the browsers will be able to ward off attackers. On the contrary, Windows has topped the list with Windows User-Mode Components at 116 fixed vulnerabilities.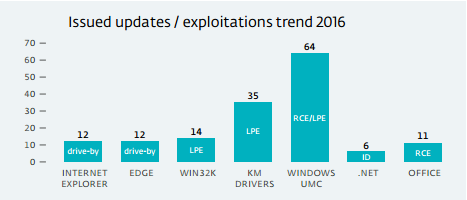 At the end, the report summarized how the use of modern up-to-date Windows version is the best way to protect oneself from the attacks and it further elucidates how the Windows 10 components contain useful security features which can mitigate RCE and LPE exploits. Furthermore, the report from Eset also explains how the exploits on the Internet Explorer still matters as Edge is optional on the Windows 10.