Twitter  is proven to be vulnerable to hacking attempts every now and then. Seeing the increasing internet vulnerabilities and the dubious links being shared on this popular social site, F-Secure has launched a new tool to scan Twitter links. The tool named Safe Twiit will check the last 30 tweets posted on your timeline and mention if they are safe or not.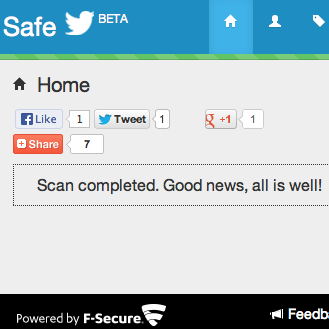 Check Twitter links with Safe Twiit
Twitter is one of the most popular micro-blogging website and we get numerous tweets posted on our timeline every minute. Many of them are short-links and we do not have an idea where they open to. People usually tweet several times per hour. However there are many privacy implications that you may apply like we can secure our Twitter account by using a strong password and changing other privacy settings, but what if someone posts maliciously linked tweets on your timeline. What if you click on those links with cheesy lines?
Safe Twiit helps you in weeding out the malicious links posted with the tweets on your timeline. With this tool you can moreover block the source of tweet posted on your timeline with some malicious links.
The Safe Twiit tool from F-Secure is still in its beta version, but you may want to check it out. You will be required to log in to your Twitter account and give access to this app.