We all know how much data we have given to Facebook. Right from relation status, to what we do, connection to a spouse, log everything that is happening with our life. That's a personal choice, but that has given a lot of data point to Facebook. Today, Facebook has launched Facebook Dating to make it easy to find love through what you like.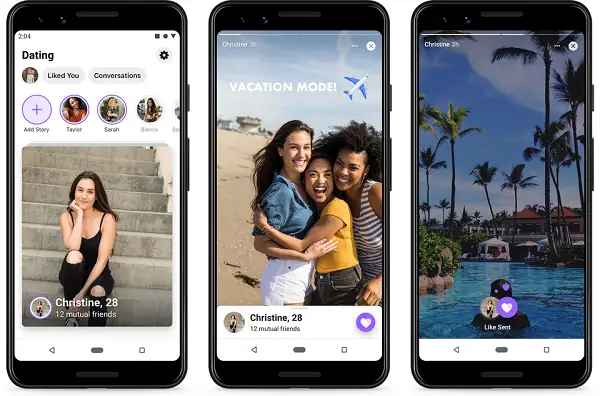 Facebook Dating launched
The core idea of Facebook is to find someone interesting for you, help you start meaningful relationships through things you have in common, like interests, events, and groups. All the data we have given for years will now help you create a dating profile and gives you a more authentic look at who someone is.
Starting with the US; Facebook is integrating Instagram posting, add Instagram followers to their Secret Crush lists, in addition to Facebook friends. By the end of the year,  it will be possible to add Facebook and Instagram Stories to your Dating profile too.
How does Facebook Dating work?
There is no separate app, but The feature is into the Facebook app. You can choose to opt into  Facebook Dating and create a Dating profile if you are 18 years or older. This profile is separate from your Facebook Profile. Once you have added all your interests, and what you are looking for, people are suggested based on your preferences, interests and other things you do on Facebook
Instead of swiping on tons of pictures, you can connect directly to them by commenting or liking, like how Facebook works.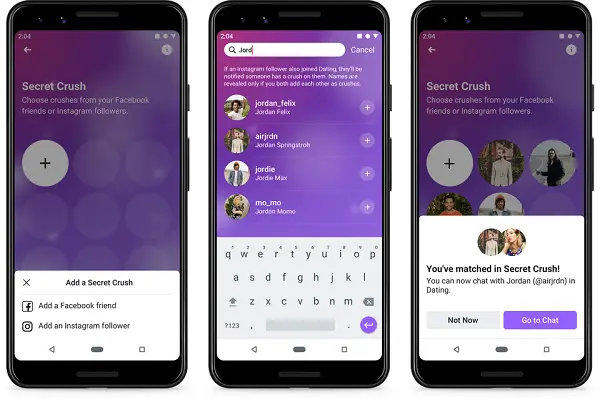 The significant difference is that Facebook Dating allows you to match with friends of friends and people, not in your friend circle. Facebook Dating won't match you with friends unless you choose to use Secret Crush and you both add each other to your list. All of your Dating activity will stay on Facebook Dating. It won't be shared to the rest of Facebook.
Secret Crush
Facebook Dating has an exciting feature called Secret Crush. I think this is going to be an excellent feature as you can select up to nine of your Facebook friends or Instagram followers who you're interested in. (To add Instagram followers you must connect your Instagram account to Facebook Dating.)
If the person whom you have a crush on joins Facebook Dating, they'll get a notification saying that someone has a crush on them. If your crush adds you to their Secret Crush list too, it's a match!
Key Features of Facebook Dating
People will soon be able to connect and share with Facebook and Instagram Stories.
Secret Crush lets you match with people you already know on Facebook and Instagram.
You can now add your Instagram posts to your profile on Facebook Dating.
Opt into Events and Groups to see people with similar interests.
Feel safe by sharing details of your date.
Creating your dating profile is easier than ever.
Facebook Dating Availability
In addition to the US, Facebook Dating is currently available in 19 other countries: Argentina, Bolivia, Brazil, Canada, Chile, Colombia, Ecuador, Guyana, Laos, Malaysia, Mexico, Paraguay, Peru, the Philippines, Singapore, Suriname, Thailand, Uruguay, and Vietnam. It will be in Europe by early 2020.