The more you understand your Facebook features, the better your experience with it can be! Especially after the foray of updates that the social-networking giant released 24 hours ago. Facebook, considering users feedback it has rolled out certain 'Better Controls for Managing Your Content'.
These include, Privacy Shortcuts, an easier-to-use Activity Log, and a new Request and Removal tool for managing multiple photos you're tagged in. Finding yourself tagged in totally unwanted or completely irrelevant images has become a serious problem for many Facebook users. The update therefore brings a great relief to them.
Facebook Better Controls for Managing Your Content
Privacy Shortcuts
Privacy update has turned out to be the main highlight of the update. Why? All the shortcuts to the privacy settings are now located at the toolbar which is clearly visible on your profile page. The Help Center content can also be accessed through these shortcuts.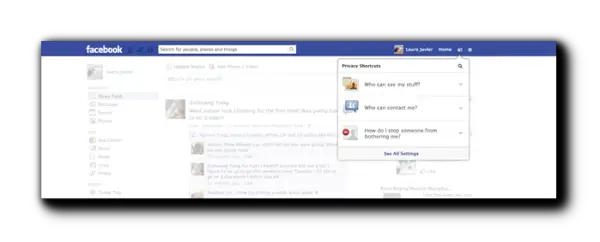 Earlier, to access the same set of settings you had to stop what you're doing and navigate through a separate set of pages. The process has been cut short with release of new update. Now, for key settings, you just have to go to the toolbar to manage various options such as "Who can see my stuff?" "Who can contact me?" and "How do I stop someone from bothering me?"
Activity Log
Next is the updated Activity Log which promises to make navigating for Facebook users easier. Users can now easily review their own activity on Facebook, such as their likes and comments, as well as photos and posts that they are tagged in.
New Request and Removal tool
Another major addition is the new Request and Removal tool that makes it easier for users to report and remove offensive photos that they have been tagged in.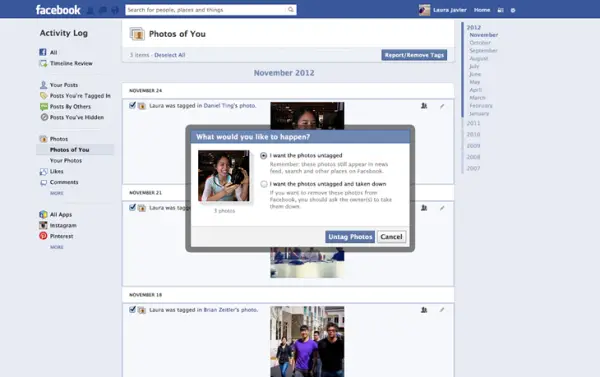 Times before, you had no easy way to take an action against a unwanted photo you were tagged in. But now within the updated Activity Log, you can find a Request and Removal tool for taking action on such photos. If you spot things you don't want on Facebook, simply inform the concerned person who posted them to remove them.
To do this, go to the "Photos of You" tab, select multiple photos, and ask friends to take down the shots you don't like – you can even include a message about why you want him to do so. The tool also lets you untag multiple photos at once.
To read the complete list visit Facebook Newsroom.