There were immense speculations about the surprise launch from Facebook today and if you guessed it a Facebook Search Engine, you win! The surprise is finally over and Mark Zuckerberg and his herd of journalists are out with the big announcement of "Graph Search" in a press conference.
Announcing the search engine, Mark said, "Graph search is not web search, it's about graphing our part of the web."
Zuckerberg and his team explained the tool with details and also showed how to use the "Graph Search" to get comprehensive information on any topic. It is moreover intended to answer the specific questions, for instance "Photos that I liked" " all my friends living in California" etc.
Explaining the efficacy of tool Zuckerberg said, "I and my wife, Priscilla Chan, used it to search for Mexican restaurants nearby that my friends have been to. We found a place, and it was good.
While the Facebook team explained how the "Graph Search" could be used to get the detailed answers for natural queries, they also emphasized on the "privacy awareness" of their new search engine. Facebook has given 10% of its computing power just to ensure the privacy of users. Facebook assured that none of the privacy settings will change automatically by using Graph Search.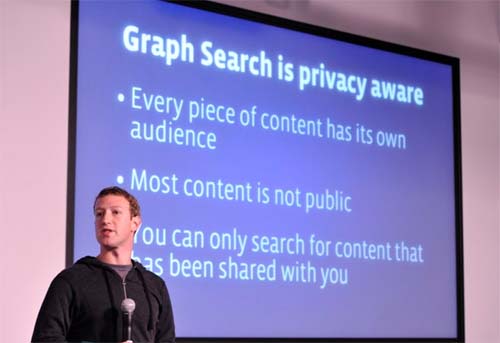 A few sample searches were done during the press conference which included:
 "Photos of Mark Zuckerberg and Priscilla Chan"
"Friends who like Star Wars and Harry Potter." (Stocky has 16 such friends.)
"Languages my friends speak"
"Music liked by people who like Mitt Romney" and "Music liked by people who like Obama"(Beatles was the only common ground
"Indian restaurants liked by my friends from India
"People named Chris who are friends with Lars and went to Stanford" (To connect with someone you met briefly and want to track down)
"My friends of friends who are single men and San Francisco residents and who are from India"
On the whole, Graph Search is a tool for users to build a new relationship with individuals they may not meet otherwise.  Facebook launched the beta version of the tool today with search for four major areas places, people, photos and interests.  Few more of search specifics like, 'wall posts' and 'songs listened' will be added in Graph Search in coming months.
http://www.youtube.com/watch?v=SD951tHz38g