As several users have pointed about, Facebook is merging Instagram and Messenger. A new Instagram update brings a new pop-up message that reads: "There's a New Way to Message on Instagram." You might see this pop-up after you update your Instagram. Instagram also provides users with a list of new cross-platform features.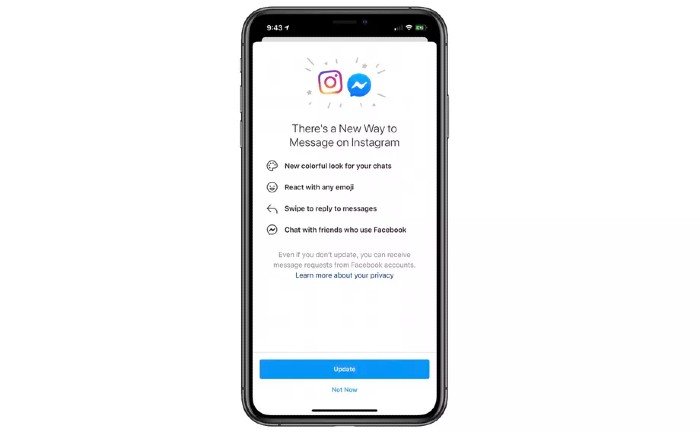 Facebook merges Instagram and Messenger chat
The update not only brings a new colorful look for your Instagram chats where you can react with any emoji but also an ability that will allow you to swipe to reply to emojis. Instagram users can now also chat with friends who use Facebook. Facebook wants to boost user engagement across apps.
Recently, Facebook integrated Messenger Rooms feature into WhatsApp, which only acts as a shortcut. Messenger Rooms allows up to 50 people to be part of an online video meeting. Similar cross-platform integrations are now coming to Instagram. This is an optional update, and only interested users will be able to use these new chat features.
However, Facebook says even if you don't update, you can receive message requests from Facebook accounts. Users often use different Facebook-owned apps to chat with their loved ones. Facebook no longer wants differences in apps to cause any barrier to your conversations.
Well, the Instagram-Messenger integration will help Facebook users connect with their friends and family members on Instagram and vice-versa.
As soon as you install the update, the regular DM icon in the top right of Instagram will be replaced by the Facebook Messenger logo. It also implements some noteworthy design changes to Instagram. As a result, the update will make Instagram chats look more color than before.
As you scroll, the sender's messages will shift colors between blue and purple. Now that is interesting! For now, messaging Facebook users from Instagram is not possible. However, things won't stay that way for long. That's for sure.
Last year, Facebook CEO Mark Zuckerberg outlined a new vision and strategy for the social media company. As per this strategy, Facebook will integrate more ways to interact with friends, groups, and businesses across apps.