Facebook Like button now gives you the choice to select your 'Reactions' buttons to express your emotions. Back in September 2015, Facebook CEO Mark Zuckerberg talked about adding a Dislike button on Facebook, however, these not exactly the Dislike buttons but they sure will help you conveying your reactions on status updates or pictures on Facebook.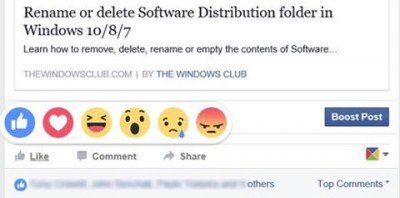 Facebook new reactions feature is launched today for Android, iOS and the web. The Like button still remains prominent and the new reaction buttons are hidden.
Facebook Reactions button
You just need to hover overs the Like button for long on your Smartphone and FB gives you six choices of emoji. Web users can see these emoji options just by hovering their mouse cursor on the Like Button.
The Social Networking Website has been into this planning for last one year and finally has come up with the reactions like Like, Love, Ha Ha, Wow, Sad and Angry. So basically, Facebook now gives you the choice to select your reaction along with the Like button.
Team Facebook says,
"We understand that this is a big change, and want to be thoughtful about rolling this out. For more than a year we have been conducting global research including focus groups and surveys to determine what types of reactions people would want to use most. We also looked at how people are already commenting on posts and the top stickers and emoticons as signals for the types of reactions people are already using to determine which reactions to offer".
Since not everything on Facebook is not likeable, Facebook lets you express what you feel.  FB users have been requesting for a Dislike button since long and thus the social media team has turned up with this new set of emoji options to show their love, laughter, sadness and anger.