Mozilla has finally rolled out the 20th edition of their popular browser Firefox. Following the rapid release cycle, the 20th edition goes live after testing of six beta's. Previously 19.0.2 was the stable release. The latest version available is Firefox 20 and the download links remain the same.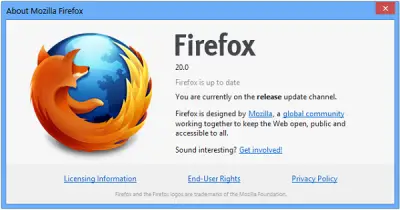 Here are the highlights of 20th release:
Ability to close hanging plugins, without the browser hanging
Firefox will offer to reset the Awesomebar search provider
New download panel
Continued performance improvements in page loads, downloads, shutdown, etc.
Continued implementation of draft ECMAScript 6 – clear() and Math.imul <canvas> now supports blend modes
Various <audio> and <video> improvements
getUserMedia implemented for web access to the user's camera and microphone
Details button on Crash Reporter
Unity plugin doesn't display in HiDPI mode.
Observations
There are some performance improvements, as usual, and some new features under the hood for developers to use. Per window private browsing makes it possible to open a private browsing window without closing all of your existing tabs. This may not seem like much, but having to switch back and forth between private browsing and regular browsing was an annoying limitation, one that led a lot of users to stop using the feature altogether. Likewise the new download panel – it may not be a hugely important feature, but this is the first major improvement to the download manager since Firefox was introduced. The new panel is part of the toolbar, it pops up when you use it, it has a download time estimate, overall, it's fairly useful though something that should have been implemented for years now.
Download Firefox 20
You can upgrade your Firefox by clicking on About > Check for updates or you can download Firefox in over 70 languages from here.