Ensuring the safety of stored passwords in web browser applications is highly important. Mozilla has added a new safety feature to its Firefox browser. It will make use of the Windows Credentials Manager. This feature enhances the security of stored passwords in Lockwise, Firefox's default password manager.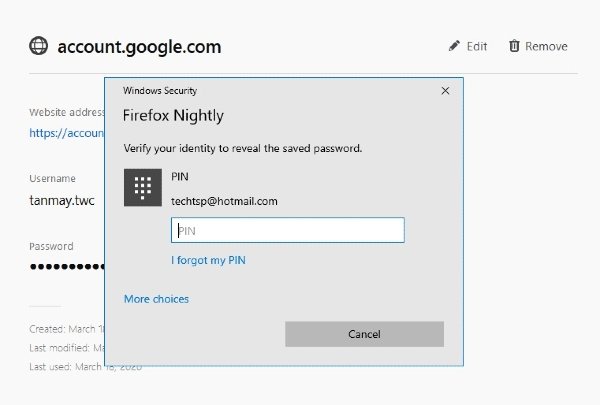 Firefox 76 will make use of Windows Credentials Manager
Thanks to this new addition to the browser, Firefox is now making it mandatory for users to enter their OS account password. Only after users have entered their OS account password, Firefox will show passwords stored in the Lockwise password manager.
This way, Firefox users can safeguard their passwords stored in Lockwise. Mozilla has introduced this feature in Firefox Nightly channel version 76.0.a1.
This feature is currently limited to Firefox Nightly version 76.0.a1.
"Firefox 76 is in the Nightly channel. 76 is due to hit our stable release channel Tuesday May 5th. Over the last week there have been over 400 fixes landed in Nightly including these fixes I thought were worth mentioning."
Go to your Firefox Nightly browser and open the Lockwise password manager. You can create and store a new password if you want. However, if you try to view the stored password, Firefox will prompt you to log in to your Windows 10 account password.
We can expect this security enhancement to safeguard stored passwords in Lockwise to a significant extent. Mozilla will add this feature to Firefox 76 stable release, which will be available for all Firefox users to download on May 5th.
Upcoming features in Mozilla Firefox
Other noteworthy additions to Firefox 76 Nightly are as follows: Fathom has been added to Mozilla-central and will help recognize password fields. In case you don't know, Fathom happens to be a supervised-learning system that recognizes parts of web pages.
Mozilla is also making macOS Touchbar more accessible to Firefox users. They've also announced that Windows Volume Mixer will no longer create multiple sliders as far as content processes are concerned.
Recently, Mozilla announced Firefox 74, which makes it harder for Facebook, Messenger, Instagram, and Workplace to track users.