Microsoft has released its Accessibility Tools & Training package of free online accessibility training courses, tools and other resources to help developers worldwide create technology products, services and websites that are accessible to people with disabilities.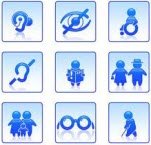 Microsoft initially developed the online tools and training courses to increase accessibility awareness and expertise among its own developer groups.
But in response to growing customer demand for accessibility guidance, however, Microsoft decided to make the resources available, free of charge, to corporations, governments and nongovernmental organizations (NGOs) around the world that want to make technology more accessible.
The seven training courses that Microsoft has developed covers a general overview course suitable to both technical and nontechnical audiences, a development overview course, and five courses covering the Windows platform technology, including Windows Forms and the Windows Presentation Foundation.
You can view download the Microsoft Accessibility Tools & Training and the Accessibility Resource Guide from the Microsoft Developer Center website.