Microsoft has set up a new website just in time for the launch of the new Nokia Lumia 900 Windows Phone. The FreeTimeMachine website does not have much to say right now. All it asks you is – What would you do with a little more time in your day?
While nothing more about the campaign is mentioned, the reason why Microsoft is probably asking this question is beacuse Windows Phone does promise to save you time, while connecting with people, and so maybe there is a contest or sweepstake coming up for the best and most imaginative replies to the teaser question!
Details about the Windows Phone Free Time Machine Promotion, are expected to be clear on 9th April 2012, till then, we can only speculate.
Head over to FreeTimeMachine.com to see a larger image of the above screenshot – there is nothing else there anyway! But come 9th April, and things will change!
UPDATE: The site has now revealed the prizes.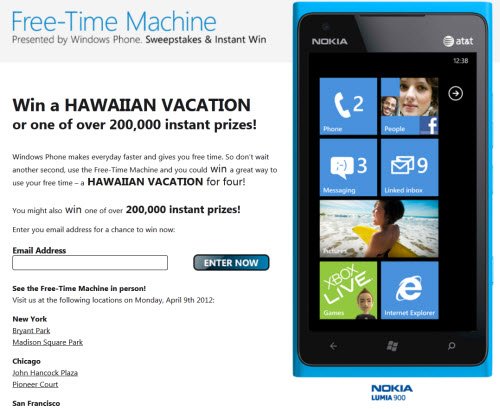 You can win a HAWAIIAN VACATION  or one of over 200,000 instant prizes!