As announced earlier Barack Obama has conferred the prestigious Presidential Medal of Freedom honor to Bill and Melinda Gates along with 20 other dignitaries who have contributed to the society.
The Bill and Melinda Gates Foundation has been known for its Philanthropic efforts and it has managed an endowment fund whose worth is pegged at $36 billion to fight malaria and tuberculosis. The Bill and Melinda Gates Foundation has also been instrumental in fighting other global health issues and has taken up education initiative.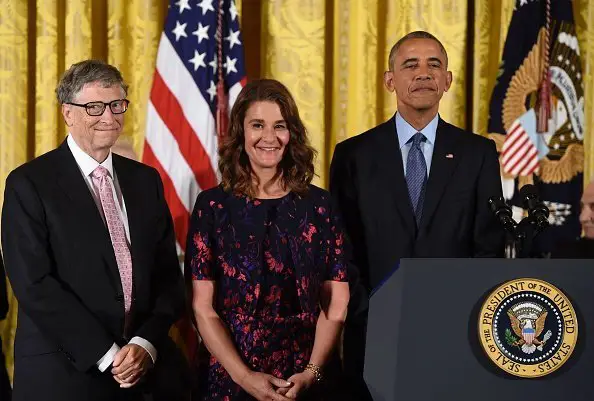 Along with Bill and Melinda Gates, other recipients of the award included Margaret H Hamilton, who was instrumental in the team that developed the onboard flight software for NASA's Apollo command modules and lunar modules. The list of honorees also included Ellen DeGeneres, a well-known comedian. Admiral Grace Hopper, the software programmer who wrote the first software compiler and contributed to COBOL has also been conferred honorary posthumous.
This is how Barack Obama, the outgoing President began his speech,
"Today(Wednesday), we celebrate extraordinary Americans who have lifted our spirits, strengthened our union, pushed us toward progress" before adding further, "Everybody on this stage has touched me in a very powerful, personal way, in ways that they probably couldn't imagine."
Speaking up about the Bill-Melinda foundation Obama expressed his gratitude and said,
"For two decades, the Gates Foundation has worked to provide lifesaving medical care to millions- boosting clean water supplies, improving education for our children, rallying aggressive international action on climate change, cutting childhood mortality in half"
Being the humorous being that he is, Barack Obama jokingly made fun of Bill Gates and said,
"We came close to missing out on Bill and Melinda Gates's incredible partnership because apparently, Bill's opening line was, 'do you want to go out two weeks from this coming Saturday?' He's good with computers, but you know… Fortunately, Melinda believes in second chances and the world is better for it."
Bill and Melinda have been lauded for their philanthropic efforts and it is heartening to know that Microsoft has been helping make the world a better place via Bill and Melinda's philanthropic efforts.