GitHub has announced its public roadmap for the first time to help developers understand what is expected of the Microsoft-owned source code management service in the coming months. Each GitHub's roadmap entry will consist of a number of labels indicating release phases, roadmap stages, feature areas, features, and product SKUs.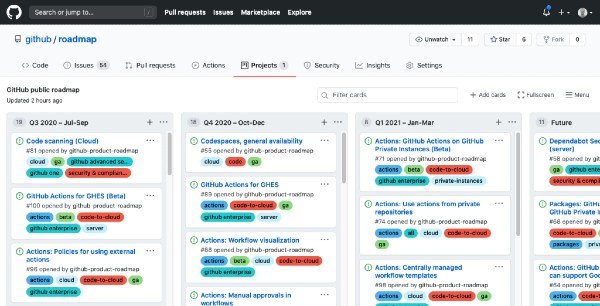 GitHub public roadmap
In his recent blog post, Shanku Niyogi, Senior Vice President of Product at GitHub wrote:
"The public roadmap is designed to give your team more information about what features and functionality you can expect from GitHub over the coming quarters. With more transparency into what we're building, you can also plan better and share feedback earlier to influence what we're building."
GitHub says it released over 200 new features last year including an end-to-end security solution, new and updated clients for Mobile, Desktop, and CLI, among other things. However, developers expect more visibility into what new features GitHub is working on as well as the approximate release timeline.
Interestingly, the GitHub public roadmap is a dedicated repository that is open to everyone. Since GitHub's public roadmap is publicly accessible, developers can easily discover a project board offering a glimpse of the company's upcoming releases.
"Each item on the board links to a detailed issue with more information about what we're planning, why it's important, when we expect to deliver it, and a bit about how we expect it to work."
The project board supports a number of filter labels such as 'beta,' 'server,' and 'security & compliance,' etc. These filters will help developers easily understand the release timeline for each phase of the development.
Thanks to these filter labels, developers can see which quarter GitHub plans to bring code scanning and secret scanning to their Enterprise Server in beta. In addition to tracking the repository, developers can also subscribe to individual roadmap issues. This way, GitHub will keep the interested developers updated about changes directly within its interface.
GitHub promises to keep the roadmap regularly updated.
In related news, GitHub is working on Discussions, a way for software developers to collaborate outside the codebase. GitHub is soon making Discussions available in beta for public repositories.
Via: Mspoweruser.